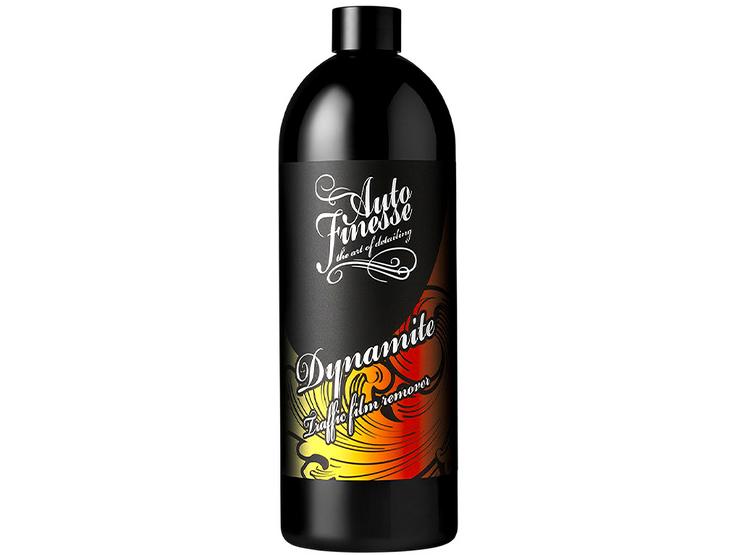 10 people are viewing now
5 purchases during last 48 hours
Bundles just for you
Cleaning Stage : Pre Wash
Suitable For : Paintwork
Auto Finesse Dynamite Pre-Wash Solution - 1L
Auto Finesse Dynamite Pre-Wash Solution - 1L is a concentrated, safe, citrus pre-wash solution developed to breakdown dirt and road grime from all vehicle exterior surfaces.
From paintwork to wheels, arches and door jambs, this versatile cleaner makes light work of the dirtiest jobs, whilst maintaining delicate wax and sealant layers to their fullest. A concentrate, pre-wash solution that you can adapt to any detailing task. From road grime and bug removal to deep cleaning and degreasing.
Dynamite can pack a cleaning punch in any situation while remaining gentle on sensitive finishes such as bare alloy, wax and sealant layers or matt finishes. Simply dilute at a ratio from 1:1 to 1:10 depending on the cleaning intensity required, apply and rinse or for added bite, apply, agitate with a soft bristle detailing brush and wipe away.
Other Customers Went On To Buy
Features & Benefits:
Removes road grime and bugs
1L makes 10L of cleaning solution
Wax and sealant friendly
Degreasing action
Dilute to suit
Application:
Vehicle Exterior Surfaces
Additional Note:
Warning: Causes serious eye irritation

How to use:

1.Dilute at a suitable ratio between 1:5 - 1:10 for the job in hand.
2.Apply directly to the surface to be cleaned.
3.Using a pressure washer or hose, rinse thoroughly from the surface.
4.For heavily soiled areas reapply and agitate with a dedicated detailing brush or mitt.
5.Follow up washing the vehicle in your usual matter.