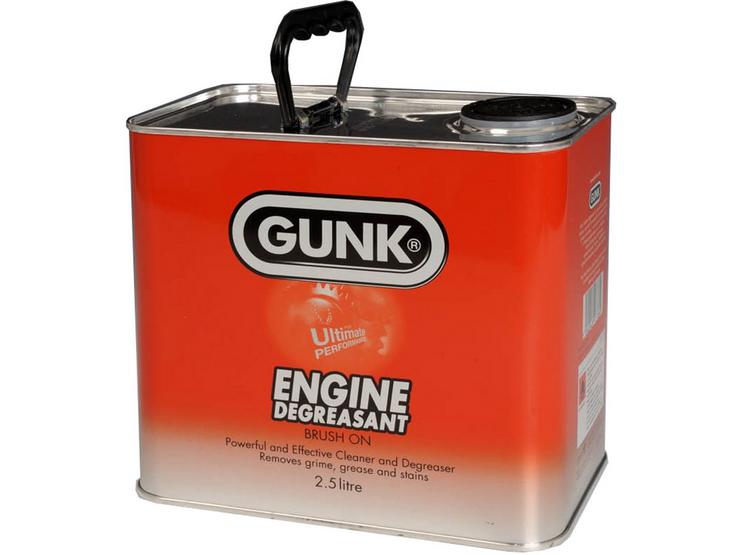 10 people are viewing now
5 purchases during last 48 hours
Gunk Engine Degreaser 2.5 litre
Gunk Engine Degreasant is a powerful & effective cleaner & degreaser. It is the first choice of professional mechanics & engineers as it removes oil, grease & grime from a wide range of engines, automotive parts & machinery.
The Gunk Engine Degreasant has been specially formulated to give prolonged contact with grease, oil and grime deposits to maximise the cleaning effect of the brush on oil.
Engines, from motor vehicles to boats and even lawnmowers all are affected by grease, grime, oil and dirt deposits. These small but vital elements all can build up to affect the performance of the engine itself.
The oil is perfect for use on vertical surfaces of vehicles, industrial and agricultural machines and even bicycles and garden machinery. The simple and easy to use a brush on formula will make degreasing your engine simple.
Features & Benefits:
Powerful and effective cleaner and degreaser
Easy to use, brush on application
Removes oil, grease & grime from many surfaces
2.5 litre
Deep cleaning and fast-acting
User Directions:
Shake can well before use.
When using on engines, for best results, warm the engine then switch off. Ensure all electrical components are covered and protected, e.g. wrap in polythene.
To brush on, decant into a suitable container so as not to contaminate the contents of the can.
Generously brush onto the surface or item to be cleaned until the entire surface appears thoroughly wet.
Allow approximately 10 minutes for Gunk to penetrate the grime and grease.
For heavy soiling leave longer. If necessary agitate with a stiff brush.
Rinse thoroughly with water.
Repeat if necessary.
For detailed cleaning of parts use Gunk Degreasing Wipes.