Engine Oil
Find what's right for your vehicle
Enter your registration number and we'll only show you appropriate products.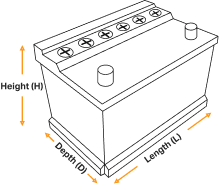 Check which battery is right for my car
Keeping your engine oil topped up is crucial to keeping your engine performing. The oil in your car's engine helps to keep the moving parts running smoothly, dragging away any debris and protecting against damage. Your oil works hard, and over time can evaporate, drip away or lose its effectiveness.You should check your oil levels regularly and top it up when needed, it should also be changed regularly - as often as every year.
It can be confusing to know what kind of oil you need, whether it's part-or fully synthetic and what viscosity. If you know the difference between 5w30 oil and 10w40 oil, then you'll find everything online. If you need some help, supply a few details and our oil finder tool will select the right oil for your car. You can also learn more about moto oil in our essential car oil buyer's guide. It's also worth checking your owner's manual (if you can remember where to find it!).
A DIY oil change is a pretty simple job for the home mechanic. If you do choose to do it yourself, make sure to capture the used oil4 and dispose of it safely. If it's easier - or you don't want to get your hands dirty - drop in to your nearest Halfords and take advantage of our oil check and top-up service. For just £5 we'll check your oil and top it up if necessary.
Engine oil is a bulky buy, but we'll deliver it to you for free if your total basket is over £40. You'll find plenty of car accessories and other essential oils and fluids that you'll need to keep your car purring.