Motorcycle Batteries
Find what's right for your vehicle
Enter your registration number and we'll only show you appropriate products.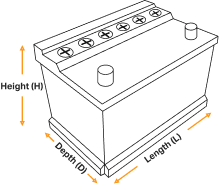 Check which battery is right for my car
At Halfords, we're one of the UK's leading suppliers of car parts and accessories, but we love two wheels too! We have over 100 years of experience delivering the products bikers want.
Bike batteries may be smaller than those in your car, but they need to perform. We produce a wide range of batteries, including lithium-ion batteries, maintenance-free batteries and high-performance YuMicron batteries.
All of the 12v motorcycle batteries we sell are pre-filled and ready to be fitted. Simply remove and replace the old one and you're ready to go. If you want the easy life, choose one of our maintenance-free batteries and you'll never have to touch it again.
If you need some advice on the best Shido or Yuasa battery for you, then our in-store experts can provide the common sense advice you need to help you choose the right motorbike battery for you and your bike. If you know what you want, order online or use our Click and Collect service to ensure your battery is waiting for you when you arrive. Don't know where to go? Use our handy store finder to find local Halfords store .

Why not check out our comprehensive range of motorcycle accessories and spares. Give your battery the premium treatment with our range of motorcycle battery chargers motorcycle battery chargers . They will keep it in tip-top condition and ensure it's ready for the road when you are.