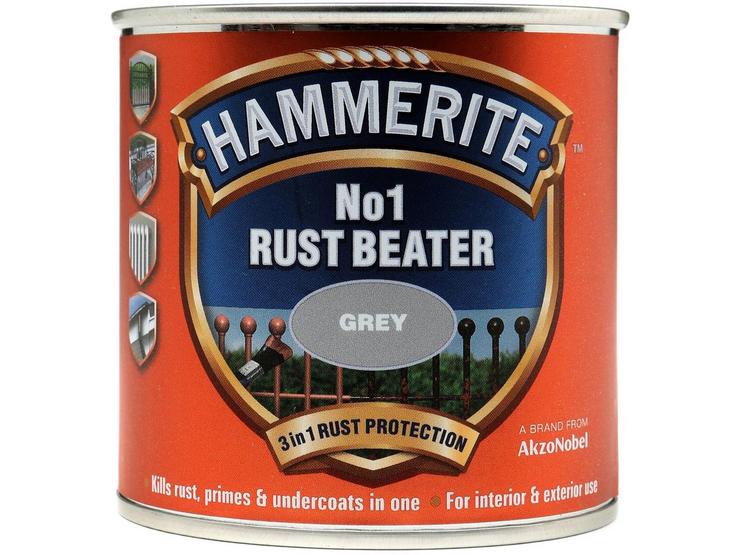 10 people are viewing now
5 purchases during last 48 hours
HAMMERITE No1 RUSTBEATER GREY 250ML
The HAMMERITE No1 RUSTBEATER GREY 250ML is perfect for areas where there is a build-up of rust. It's corrosion-resistant and is compatible with most topcoats. It can be applied directly to rust and can help to prevent further rust from developing. It provides a high build finish to heavily pitted areas of rust and prevents new rust from forming.
It also contains an anti-corrosive primer for ferrous metals. Preparation: Remove loose rust, scale and paint by wire brushing or rubbing down with coarse abrasive paper. Abrade clean steel with emery paper to provide a key. Degrease where necessary with white spirit, rinse with clean water and allow time to dry.
How to use: Ideal application temperature is 8 to 25degC. Stir paint thoroughly before use. By brush: apply 2 coats, allowing 6 hours between coats. Ensure corners and edges are well covered. Apply topcoat after 6 hours. By roller: apply 2 thick coats. Thin with Hammerite Brush Cleaner & Thinners at 9 parts paint to 1 part thinners. Brush in edges first before using roller. A suitable Hammerite topcoat/paint system must be applied after a minimum of 6 hours. For best results allow 24 hours.
Features & Benefits:
Can be applied directly to rust
Can help prevent further rust from developing
Additional Note:
View the Safety Data Sheet
Hazards & Warnings

Danger: Extremely flammable aerosol
Warning: Pressurized container: may burst if heated

Warning: Causes skin irritation

Warning: May cause drowsiness or dizziness
: Harmful to aquatic life with long lasting effects