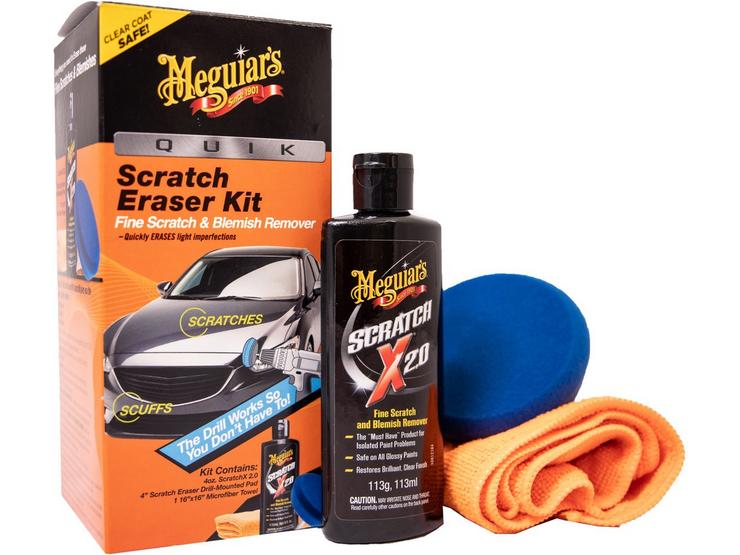 10 people are viewing now
5 purchases during last 48 hours
Meguiars Quik Scratch Eraser Kit
If you have light scratches and scuffs but don't want to work by hand there's now a great solution with Meguiar's Quik Scratch Eraser Kit. This kit includes everything you need to remove light imperfections quickly and easily.
The kit comes with Meguiar's proprietary 4" Scratch Eraser Pad that attaches to a standard household drill greatly reducing the time and effort it takes to remove light defects when used with Meguiar's ScratchX 2.0, also included in the kit. Meguiar's ScratchX 2.0 contains microscopic abrasives to quickly and safely erase blemishes like light scratches, scuff marks, paint transfer, fingernail marks around door handles, light defects and more.
The last component in the kit is a premium microfibre towel to safely and gently remove the ScratchX 2.0 and bring up a brilliant shine. So, if you have fine scratches and blemishes let the drill do the work and erase them with Meguiar's Quik Scratch Eraser Kit.
Features & Benefits:
Minimal Effort: Erase fine scratches & remove paint blemishes quickly and with minimal effort
Erase Scratches & Scuffs: Use the power of your drill to quickly erase light scratches, scuffs, paint transfer & more
Drill Activated: With scratch eraser pad & scratch x 2, the drill works, so you don't have to
All In One Kit: Kit includes everything you need to quickly & safely remove fine scratches & blemishes
Clear Coat Safe: Safe and effective on all glossy paints and clear coats
Directions of use:
Shake well
Use only on a clean, cool surface in the shade
Apply a small amount of ScratchX 20 to the Eraser Pad in an X pattern
Place the Quik Scratch Eraser Pad flat on the scratch & using medium speed, make 4-6 overlapping passes Repeat as needed until the defect is no longer noticeable
Remove excess ScratchX 20 from the Quik Scratch Eraser Pad by pressing the pad into a clean, damp towel several times, then polish the affected area with 4-6 light, overlapping passes
Remove remaining residue with the microfiber towel
TIP: Follow with Meguiar's® Ultimate Quik Wax® to quickly protect & beautify the newly corrected area, along with the rest of your car!
Hazards & Warnings

Warning: Causes skin irritation
Warning: May cause damage to organs
: Harmful to aquatic life with long lasting effects