Built by cyclists, for cyclists, VooDoo Bikes offer everything you need, whether you're after an high-performance mountain bike, adventure bike or performance E-Bike.
Shop All
AWARD WINNING VOODOO BIKES
The VooDoo range has won an array of awards and high scores for the quality and incredibly fun ride our bikes can bring.
From the Bizango to the Hoodoo, our award-winning range of bikes are regularly reviewed and receive top scores from industry experts including MBUK, MBR and Bike Radar.



ABOUT VOODOO BIKES
Despite VooDoo's long-standing involvement with cycling, VooDoo Bikes are actually often thought of as one of the newest and most up-and-coming bike brands in the UK. At VooDoo we draw upon our deep cycling heritage and ties to mountain bike hall of fame founder Joe Murry, and combine this with the latest bike technology to deliver you a range of bikes which pack a serious punch.
Visit any trail centre across the UK and you will likely see someone pushing their limits on a VooDoo mountain bike. Designed to grow with you as a rider, VooDoo bikes are always built with customisation and progression in mind. Whether you are just starting out or looking for a real step up in your riding, a VooDoo won't hold you back.
THE HISTORY OF VOODOO BIKES
Founded in 1994 by Joe Murray, VooDoo Bikes have been always been centred around the lifestyle and love of cycling. Joe was a American pioneer in the mountain bike movement. After his success's in mountain bike racing he moved into bicycle design and VooDoo Bikes were born. 6 years after founding VooDoo bikes he was inducted as the first ever member of the mountain bike hall of fame in 1999. In the 20 years since VooDoo bikes have continued to grow to offer a range of hardtail mountain bikes, full suspension trail bikes, adventure bikes, aggressive hybrids, BMX's and more.
Throughout VooDoo's history we have remained true to the simple idea of having fun and building relationships with like-minded cyclists who wanted to feel the wind on their face as they race through the mountains.
Having been around the block – or the mountain, so to speak – VooDoo Bikes offer riders more than a bike, but a chance to be part of the VooDoo tribe.
PRODUCTION & TESTING FOR VOODOO BIKES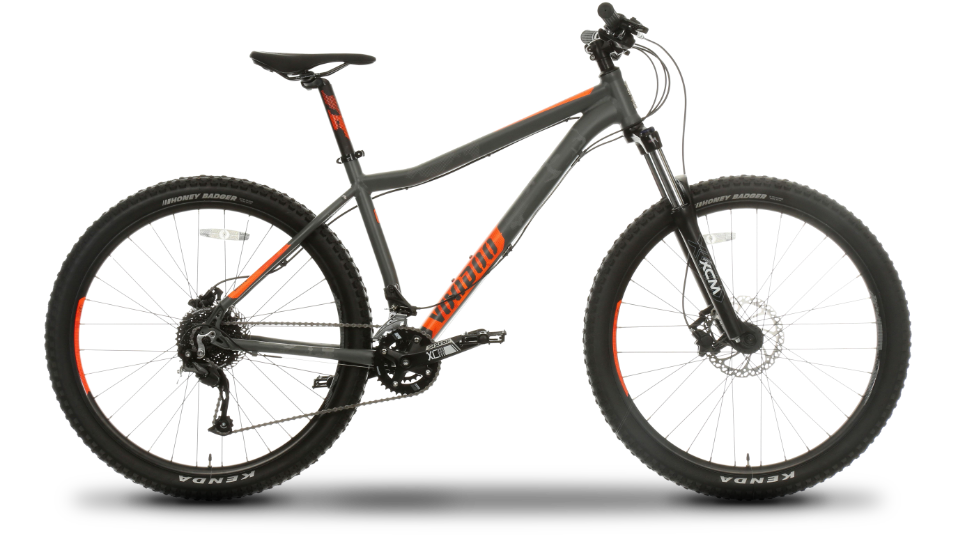 Testing is a crucial part of the VooDoo production process. Every component added to a VooDoo Bike is rigorously tested and carefully selected.
Whether it's the handlebars, wheels or fork, the components and frame geometry of VooDoo Bikes are replaced, tested, and chosen over and over again until the perfect bike is created.
Whether you're hitting your next jump, getting loose on your local trail or commuting to work, you can be sure that your VooDoo Bike has done it all before, keeping you confident and secure on your wheels.
We're so sure that you can trust you VooDoo Bike, that we back frames and rigid forks with a lifetime guarantee.
VOODOO UK DESIGN TEAM
Optimally designed, VooDoo Bikes are taken out into the woods, mountains and commuting routes to ensure the bikes VooDoo create are ideal for UK riders.
The passionate designers behind VooDoo Bikes work to create a range of bikes that are made for all riders, and most importantly our designers create bikes they want to ride (and do ride) themselves, and as a result our bikes come with the very best kit, and latest trending designs which our customers have become accustomed too.
VooDoo Guarantee
When it comes to the production process, testing is a crucial part to ensuring every component on a VooDoo bike is ready for whatever the trails may bring.
Whether it's the frame geometry, forks, suspension or components, VooDoo test and replace until they have created the perfect bike.
To keep you riding for longer you can feel confident knowing that your new VooDoo bike has been fully tested to ensure they have created the best range with you in mind.
Therefore all VooDoo bike frames and rigid forks come with a lifetime guarantee giving you that extra piece of mind on the trails, jumps or daily commute.
Find out more
VooDoo Aftersales Support
With a purchase of your VooDoo bike not only will you have lifetime guarantee on Frame and forks but you'll also receive free lifetime safety checks.
So if you need any help with any element of your VooDoo bike, bring it in to your local Halfords store for free expert help and advice.
With over 450 stores all across the UK, your local Halfords store and their expert cycling team is never far away, ready to support you whenever you need it.
See locations