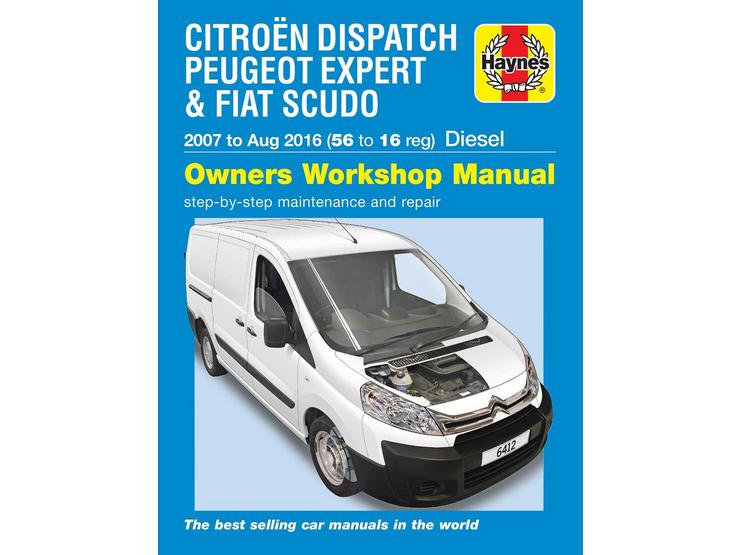 10 people are viewing now
5 purchases during last 48 hours
Citroen Dispatch, Peugeot Expert & Fiat Scudo Diesel (07-16) Manual
A part of the Haynes bestselling car maintenance and repair manuals, the Citroën Dispatch, Peugeot Expert & Fiat Scudo Diesel (07-16) Manual covers diesel engines from 2007-2016.
This manual is ideal for the DIY enthusiast or the professional mechanic, as the step-by-step guide clearly shows you how to do everything - from routine checks and servicing to roadside repairs and complete engine, transmission, brakes and body overhaul.
The reference section covers everything - from dimensions and weights to general repair procedures, disconnecting the battery, jacking the vehicle, MOT test checks and fault finding, as well as a glossary of technical terms. All manuals feature many photographs and also have full colour wiring diagrams.
With a Haynes Online Manual in an online format, you get all the trusted content of a printed manual, with additional features to help you get the job done. Take your entire manual with you on every journey.
Features & Benefits:
Full introduction to your car, covering all safety aspects
Roadside repairs, including jump starting, wheel changing & towing
A full section on all the standard weekly checks, including tyres, fluids etc
Compatibility:
Covers the following models:
Citroën Dispatch, Peugeot Expert & Fiat Scudo Vans with 1.6 litre (1560cc) & 2.0 litre (1997cc) turbo-diesel engines.
Also covers most features of Toyota Proace Diesel Vans.
All colour step-by-step guides for over 200 jobs with 700+ photos
Citroën Dispatch 2007-2016
Peugeot Expert 2007-2016
Fiat Scudo 2007-2016
Includes most features of Toyota Proace Diesel Vans
Diesel: 1.6-litre (DV6DUM (9HH)), (DV6UC (9HM, 9H07)) SOHC turbo 8-valve 4-cylinder
Diesel: 1.6-litre (DV6TED4 (9HU)) DOHC turbo 16-valve 4-cylinder
Diesel: 2.0-litre (DW10UTED/120 Multijet (RHK) - 2006-2016 DOHC turbo 16-valve 4-cylinder
Diesel: 2.0-litre (DW10BTED4/140 Multijet (RHR) - 2006-2012 DOHC turbo 16-valve 4-cylinder
Diesel: 2.0-litre (DW10UTED4 (RHG) - 2008-2016 DOHC turbo 16-valve 4-cylinder
Diesel: 2.0-litre (DW10CD/130 Multijet (AHZ, RH02) - 2010-2016 DOHC turbo 16-valve 4-cylinder
Diesel: 2.0-litre (DW10CTED4/165 Multijet (RHH - 2010-2016 DOHC turbo 16-valve 4-cylinder
Diesel: 2.0-litre (DW10CE (AHY) - 2011-2016 DOHC turbo 16-valve 4-cylinder
Additional Note:
Does NOT cover models with petrol engines, automatic transmission, or equipment specific to combi, refrigerated or crew vans
Does NOT cover new model ranges introduced during January 2016.
Does NOT cover Berlingo 'First' or Partner 'Origin' models