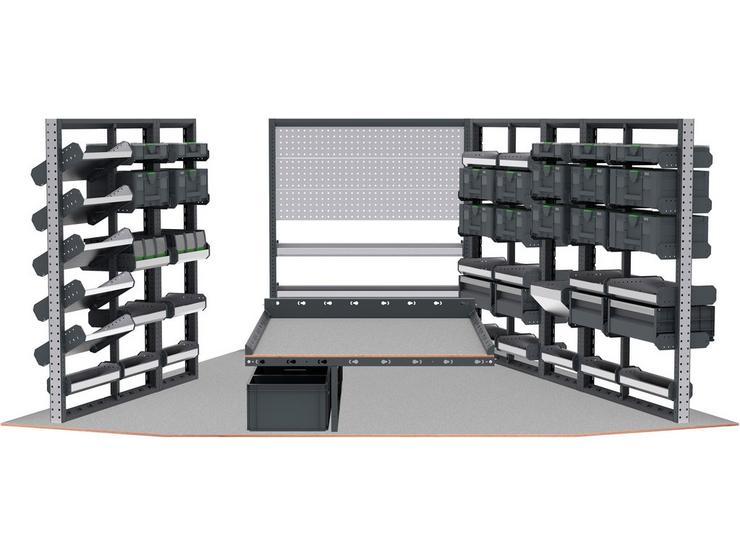 10 people are viewing now
5 purchases during last 48 hours
+ Extra 10% off*
ENDS MONDAY!
Use code SALE10 in basket
*Terms & conditions apply. Discount applied in basket
Fits Ford Transit (L2 FWD H2/H3)
The Ultimate Van racking solution
3 year guarantee
Bott Smartvan Large L2 Ford Transit FWD Ultimate Kit 19090502.19V
Left Rear Rack
1058W x 1505H frame with internal upright (x1)
Perfo end panel (x2)
Power tool case holder (5x)
530W x 135D shelf (x1)
28 box M89 Organizer case (396W x 296D x 89H) with holder (x1)
M187 Systainer3 case (396W x 296D x 187H) with holder (x1)
418W x 135D shelf (x1)
418W x 135D shelf (x1)
28 box M89 Organizer case (396W x 296D x 89H) with holder (x1)
M187 Systainer3 case (396W x 296D x 187H) with holder (x1)
530W power tool case holder (5x)
418W x 337D shelf (x2)
418W x 260D shelf (x2)
418W x 135D shelf (x2)
530W x 135D shelf (x1)
BottBox 3 piece bin kit (x2)
Right Rear Rack
1058W x 1505H frame with internal upright (x1)
498W x 1505H frame (x1)
Perfo end panel (x2)
20 box L89 Organizer case (508W x 296D x 89H) with holder (x1)
18 box M89 Organizer case (396W x 296D x 89H) with holder (x2)
L187 Systainer3 case (508W x 296D x 187H) with holder (x2)
M187 Systainer3 case (396W x 296D x 187H) with holder (x4)
418W cable reel shelf (x1)
L 5/3 vario slide drawer box with mat and holder (590W x 376D x 185H) (x1)
L 4/3 vario slide drawer box with mat and holder (478W x 376D x 185H) (x1)
530W x 337D shelf (x1)
418W x 337D shelf (x1)
530W x 135D shelf (x1)
418W x 135D shelf (x2)
Right Front Rack
946W x 1505H frame with internal upright (x1)
Perfo end panel (x2)
418W x 260D shelf (x4)
M187 Systainer3 case (396W x 296D x 187H) with holder (x4)
418W x 337D shelf (x2)
L 4/3 vario slide drawer box with mat and holder (478W x 376D x 185H) (x2)
Bulkhead Rack
1282W x 1505H frame (x1)
Perfo end panel (x1)
1202W x 200H x 135D perfo panel (x3)
1202W x 185D shelf (x2)
1202W x 260D shelf (x1)
2/3 Deck kit - containing 1556L with frame, integrated lashing rails and 12mm false floor constructed from hardwearing water resistant ply, with a non-slip durable grey surface, and Euro containers (600W x 400D x 220H)(x2), (400W x 300D x 220H)(x1)
Floor kit - constructed from 12mm hardwearing water resistant ply, with a non-slip durable grey surface and contoured to fit the vehicle.
Make the most of your van with the
Bott Smartvan Large L2 Ford Transit FWD Ultimate Kit
featuring stackable Systainer3 cases with carry handles, Organizer cases with compartments for smaller components, sliding vario drawer boxes, a dedicated shelf for storing cable reels, 5x power tool case holders for securely stowing power tools in transit, multiple bottBox bins for loose parts and bulkhead area for mounting perfo products, as well as ample shelf storage. Frame end panels provide extra space for perfo-mounted accessories. Deck kit with Euro containers maximises the use of floor space by offering additional storage with easy access to longer/bulkier items as well as lashing rails for securing the load to the deck. Fully profiled non-slip floor completes the kit.