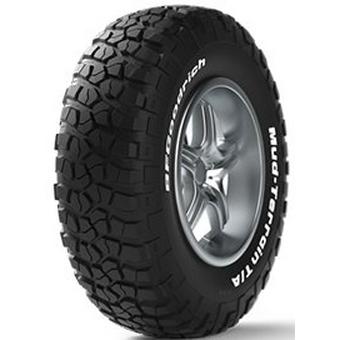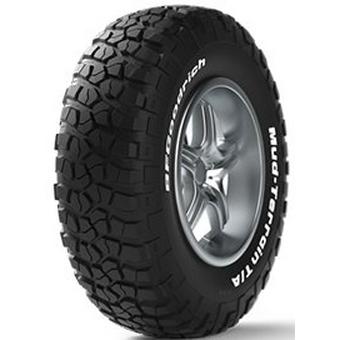 15% off
4 tyres when using our mobile fitting service.
Enter code:
BF15 at checkout
*Subject to availability.
T&Cs apply
Excellent 4x4 tyre
Cut and chip resistant sidewall
Sidewall lugs for better bite and protection
summer
BF Goodrich
BF Goodrich is a brand with a long pedigree of making tyres for over 100 years. In 1903 it featured on the first east to west crossing of the United States by car, in 1927 its tyres were on the first non stop transatlantic flight aboard the Spirit of St. Louis and in 1981 the Colombia space shuttle was fitted with BF Goodrich tyres. Today BF Goodrich is part of the Michelin group of brands giving it access to the best research and development available to make excellent tyres and is the reference point for many enthusiasts for 4x4 tyres. Right from the early days it has been heavily linked to motorsport being the first manufacturer to win the legendary Indianapolis 500 two years in succession in 1914 and 1915 an more recently in world rally championships and on tracks and desserts of the world, including the Dakar rally eight times since 2002.With all this legacy and access to the best in research and development you can be sure their road, and off road tyres are excellent quality and right for the job in hand, whether they are fitted to a car, SUV, pick-up or van.
Mud Terrain T/A KM2
The Mud Terrain T/A KM2 is the perfect off-road tyre. It has cut and chip resistant sidewall to protect the tyre from sharp rocks and obstacles when driving off-road.
Other tyres in this range
Tyre Variation
Features
Availability
Price
BF Goodrich Mud Terrain T/A KM2 (235/85 R16 120Q)
summer
Out of Stock
£180.99
BF Goodrich Mud Terrain T/A KM2 (245/70 R17 119/116Q) RWL 76GC
all-season
Out of Stock
£144.99
BF Goodrich Mud Terrain T/A KM2 (245/75 R16 120Q)
summer
Out of Stock
£199.99
BF Goodrich Mud Terrain T/A KM2 (255/70 R16 115Q)
summer
Out of Stock
£187.99
BF Goodrich Mud Terrain T/A KM2 (11.5/32 R15 113Q) RWL 76FC
all-season
Out of Stock
£115.99
BF Goodrich Mud Terrain T/A KM2 (265/70 R17 121/118Q) RWL 76GC
all-season
Out of Stock
£208.99
BF Goodrich Mud Terrain T/A KM2 (12.5/33 R15 108Q) RWL 78FC
all-season
Out of Stock
£202.99
BF Goodrich Mud Terrain T/A KM2 (30/9.5 R15 104Q)
summer
Out of Stock
£150.99
BF Goodrich Mud Terrain T/A KM2 (12.5/37 R17 116Q) RWL 76FA
all-season
Out of Stock
£230.99
BF Goodrich Mud Terrain T/A KM2 (31/10.5 R15 109Q)
summer
Out of Stock
£164.99
BF Goodrich Mud Terrain T/A KM2 (215/75 R15 100Q)
summer
Out of Stock
£155.99
BF Goodrich Mud Terrain T/A KM2 (31/10.5 R15 114Q)
all-season
Out of Stock
£179.99
BF Goodrich Mud Terrain T/A KM2 (225/75 R16 110Q)
summer
Out of Stock
£164.99
BF Goodrich Mud Terrain T/A KM2 (235/70 R16 104Q)
summer
Out of Stock
£166.99
BF Goodrich Mud Terrain T/A KM2 (235/75 R15 104Q)
summer
Out of Stock
£135.99
BF Goodrich Mud Terrain T/A KM2 (255/85 R16 119/116Q) RWL 76FA
all-season
Out of Stock
£191.99