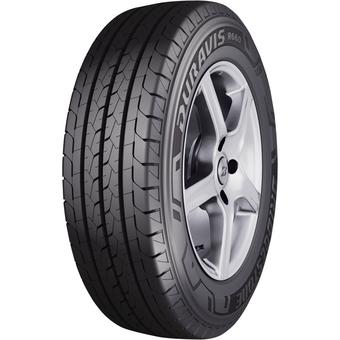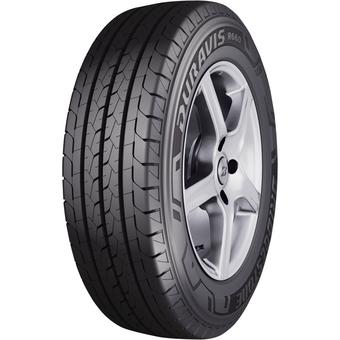 15% off
4 tyres when using our mobile fitting service.
Enter code:
BF15 at checkout
*Subject to availability.
T&Cs apply
Up to £40 off an MOT & Service with 2 or more tyres
Add both to basket or recieve a code via email after fitting. T&Cs apply
Designed for vans and heavy goods vehicles, the Bridgestone Duravis R660 provides optimum levels of durability, comfort and safety.
summer

Bridgestone

tyres fully fitted
The Bridgestone Duravis R660 is a premium quality tyre suitable for vans and heavy goods vehicles. It offers excellent durability and wear resistance, so is perfect for heavy commercial use. Handling is improved thanks to a clever tread design, making the R660 extremely safe, even in the toughest weather conditions. Roll resistance is also optimised, reducing overall fuel consumption.
Bridgestone Duravis R660 extra information
Premium quality van and HGV tyre
Reduced fuel consumption
Excellent wear resistance
Ideal for heavy commercial use
Other tyres in this range
Tyre Variation
Features
Availability
Price
Bridgestone Duravis R660 195/65 R16 100/98T
summer
Out of Stock
£113.99
Bridgestone Duravis R660 215/60 R16 103/101T
summer
In Stock
£118.99
Bridgestone Duravis R660 225/70 R15 112/110S Z
summer
Low Stock
£108.99
Bridgestone Duravis R660 195/65 R16 104/102T Z
summer
In Stock
£100.99
Bridgestone Duravis R660 215/65 R15 104/102T
summer
In Stock
£116.99
Bridgestone Duravis R660 (225/75 R16 118/116R) Z
summer
Out of Stock
£144.99
Bridgestone Duravis R660 195/70 R15 104/102S
summer
In Stock
£90.99
Bridgestone Duravis R660 215/65 R16 106/104T
summer
Low Stock
£132.99
Bridgestone Duravis R660 225/75 R16 121/120R Z
summer
In Stock
£141.99
Bridgestone Duravis R660 195/75 R16 107/105R
summer
Out of Stock
£104.99
Bridgestone Duravis R660 215/65 R16 109/107R
summer
In Stock
£115.99
Bridgestone Duravis R660 235/65 R16 115/113R
summer
Out of Stock
£125.99
Bridgestone Duravis R660 195/75 R16 107/105R Z
summer
In Stock
£87.99
Bridgestone Duravis R660 215/65 R16 109/107T Z
summer
Out of Stock
£114.99
Bridgestone Duravis R660 165/70 R14 89/87R
summer
Out of Stock
£99.99
Bridgestone Duravis R660 195/70 R15 104/102R Z
summer
In Stock
£76.99
Bridgestone Duravis R660 (205/65 R15 102/100T)
summer
Low Stock
£101.99
Bridgestone Duravis R660 215/70 R15 109/107S Z
summer
In Stock
£129.99
Bridgestone Duravis R660 175/65 R14 90/88T
summer
Low Stock
£98.99
Bridgestone Duravis R660 235/65 R16 115/113R Z
summer
In Stock
£124.99
Bridgestone Duravis R660 205/65 R16 103/101T
summer
Out of Stock
£131.99
Bridgestone Duravis R660 215/75 R16 113/111R Z
summer
Low Stock
£109.99
Bridgestone Duravis R660 185/75 R14 102/100R
summer
Out of Stock
£91.99
Bridgestone Duravis R660 205/65 R16 107/105T Z
summer
Low Stock
£113.99
Bridgestone Duravis R660 215/75 R16 116/114R Z
summer
In Stock
£123.99
Bridgestone Duravis R660 185/75 R16 104/102R Z
summer
In Stock
£98.99
Bridgestone Duravis R660 205/70 R15 106/104R Z
summer
Low Stock
£101.99
Bridgestone Duravis R660 225/65 R16 112/110R
summer
In Stock
£117.99
Bridgestone Duravis R660 195/60 R16 99/97H
summer
In Stock
£100.99
Bridgestone Duravis R660 205/75 R16 110/108R Z
summer
In Stock
£102.99
Bridgestone Duravis R660 225/65 R16 112/110R Z
summer
In Stock
£122.99
Bridgestone Duravis R660 (225/65 R16 112/110T) 72AA
summer
In Stock
£134.99
Bridgestone Duravis R660 (205/65 R16 107/105T) Eco 70AA
summer
In Stock
£127.99
Bridgestone Duravis R660 (205/65 R16 107/105T) Eco 72BA
summer
Out of Stock
£124.99
Bridgestone Duravis R660 215/65 R15 104/102T
summer
Out of Stock
£140.99
Bridgestone Duravis R660 215/60 R16 103/101T
summer
Low Stock
£145.99
Bridgestone Duravis R660 195/60 R16 99/97H
summer
Out of Stock
£129.99
Bridgestone Duravis R660 165/70 R14 89/87R
summer
Out of Stock
£100.99
Bridgestone Duravis R660 215/65 R16 106/104T
summer
Out of Stock
£134.99
Bridgestone Duravis R660 195/75 R16 110/108R
summer
Out of Stock
£109.99
Bridgestone Duravis R660 215/60 R17 109/107T
summer
Out of Stock
£144.99
Bridgestone Duravis R660 205/75 R16 113/111R
summer
Out of Stock
£137.99
Bridgestone Duravis R660 215/65 R16 109/107T
summer
In Stock
£114.99
Bridgestone Duravis R660 215/70 R15 109/107S
summer
Out of Stock
£128.99
Bridgestone Duravis R660 (215/60 R17 109/107T)
summer
In Stock
£136.99
Bridgestone Duravis R660 205/65 R16 107/105T
summer
In Stock
£133.99
Bridgestone Duravis R660 (215/65 R16 106/104T)
summer
Out of Stock
£132.99
Bridgestone Duravis R660 (195/75 R16 110/108R)
summer
Out of Stock
£114.99
Bridgestone Duravis R660 (225/65 R16 112/110T)
summer
Out of Stock
£141.99
Bridgestone Duravis R660 235/65 R16 121/119R
summer
In Stock
£134.99
Bridgestone Duravis R660 215/70 R15 109/107S
summer
Out of Stock
£128.99
Bridgestone Duravis R660 225/75 R16 121/120R
summer
Out of Stock
£159.99
Bridgestone Duravis R660 215/70 R15 109/107S
summer
Out of Stock
£105.99
Bridgestone Duravis R660 225/70 R15 112/110S
summer
Out of Stock
£130.99