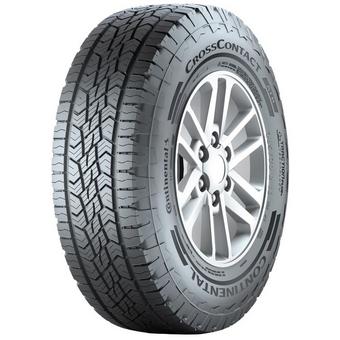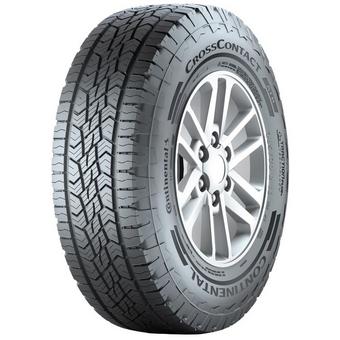 15% off
4 tyres when using our mobile fitting service.
Enter code:
BF15 at checkout
*Subject to availability.
T&Cs apply
Own the road, no matter what the terrain with Continental's TractionPlus+ Technology
Additional off-road grip through maximised contact area
all-season
The Continental CrossContact ATR comes with Continental's TractionPlus+ technology so you can own the road no matter the terrain. This tyre also has additional off-road grip through a maximised contact area and enhanced water displacement which increases the tyre's traction performance in wet driving conditions. For added comfort, the CrossContact ATR features noise blockers to reduce road noise for a smooth and quiet ride.
Rim Protection
Have you ever wondered what the FR marking on a Continental tyre stands for? It refers to the presence of a rim protection called Flange Rim. Most standard tyres do not feature this add-on because they're mounted on steel wheels covered with hub caps and rim protection limits the types of hub caps that can be fitted. However, by having an FR tyre you will help protect your alloy wheels from scratches when impacting against curbs due to the thicker rubber moulded at key locations on the sidewall (only available in selected sizes).
Other tyres in this range
Tyre Variation
Features
Availability
Price
Continental CrossContact ATR (235/85 R16 120/116S) FR 73EB
summer
Out of Stock
£158.99
Continental CrossContact ATR (265/75 R16 119/116S) FR 73EB
summer
Out of Stock
£174.99
Continental CrossContact ATR FR (265/70 R15 112T)
all-season
Out of Stock
£148.99
Continental CrossContact ATR XL FR (255/55 R18 109V)
all-season
Out of Stock
£178.99
Continental CrossContact ATR (245/70 R16 111T) FR XL 72EC
summer
Out of Stock
£127.99
Continental CrossContact ATR (275/40 R20 106W) FR XL 73EC
summer
Out of Stock
£236.99
Continental CrossContact ATR FR (265/70 R16 112H)
all-season
Out of Stock
£147.99
Continental CrossContact ATR XL FR (255/55 R19 111V)
all-season
Out of Stock
£214.99
Continental CrossContact ATR (245/70 R16 113/110T) FR 73EB
summer
Out of Stock
£150.99
Continental CrossContact ATR FR (205/70 R15 96H)
all-season
Out of Stock
£108.99
Continental CrossContact ATR XL (235/65 R17 108V)
all-season
Out of Stock
£162.99
Continental CrossContact ATR XL FR (255/60 R18 112V)
all-season
Out of Stock
£195.99
Continental CrossContact ATR (245/75 R15 113/110S) FR 73EB
summer
Out of Stock
£136.99
Continental CrossContact ATR FR (215/75 R15 100T)
all-season
Out of Stock
£120.99
Continental CrossContact ATR XL FR (205/80 R16 104H)
all-season
Out of Stock
£126.99
Continental CrossContact ATR XL FR (255/65 R17 114H)
all-season
Low Stock
£163.99
Continental CrossContact ATR FR (215/80 R15 102T)
all-season
Out of Stock
£117.99
Continental CrossContact ATR (255/65 R17 110H) FR MO 72CC
summer

mo
Out of Stock
£182.99
Continental CrossContact ATR XL FR (225/75 R16 108H)
all-season
Out of Stock
£149.99
Continental CrossContact ATR (215/65 R16 98H)
all-season
Out of Stock
£134.99
Continental CrossContact ATR XL FR (255/70 R15 112T)
all-season
Out of Stock
£149.99
Continental CrossContact ATR FR (225/60 R17 99H)
all-season
Out of Stock
£162.99
Continental CrossContact ATR (255/70 R16 111T) FR 72EC
summer
Out of Stock
£156.99
Continental CrossContact ATR XL FR (235/60 R18 107V)
all-season
Out of Stock
£168.99
Continental CrossContact ATR (215/80 R15 112/109S) FR 73EB
summer
Out of Stock
£123.99
Continental CrossContact ATR XL FR (255/70 R16 115H)
all-season
Out of Stock
£169.99
Continental CrossContact ATR FR (225/65 R17 102H)
all-season
Out of Stock
£150.99
Continental CrossContact ATR (265/60 R18 110H) FR 72CC
summer
Out of Stock
£192.99
Continental CrossContact ATR XL FR (235/75 R15 109T)
all-season
Out of Stock
£121.99
Continental CrossContact ATR (225/75 R16 115/112R) FR 73EB
summer
Out of Stock
£168.99
Continental CrossContact ATR XL FR (265/45 R20 108W)
all-season
Out of Stock
£261.99
Continental CrossContact ATR FR (235/55 R18 100V)
all-season
Out of Stock
£146.99
Continental CrossContact ATR (265/60 R18 110T) FR 72EC
summer
Out of Stock
£184.99
Continental CrossContact ATR XL FR (245/65 R17 111H)
all-season
Out of Stock
£170.99
Continental CrossContact ATR (235/55 R17 103V) FR XL 72EC
summer
Out of Stock
£176.99
Continental CrossContact ATR XL FR (275/40 R20 106W)
all-season
Out of Stock
£228.99
Continental CrossContact ATR FR (235/70 R16 106H)
all-season
Out of Stock
£147.99
Continental CrossContact ATR (265/65 R17 112H) FR 72EC
summer
Out of Stock
£163.99
Continental CrossContact ATR XL FR (245/70 R16 111H)
all-season
Out of Stock
£144.99
Continental CrossContact ATR (235/70 R16 106T) FR 71EC
summer
Out of Stock
£146.99
Continental CrossContact ATR (265/70 R17 121/118R) FR 73EB
summer
Out of Stock
£185.99
Continental CrossContact ATR FR (255/60 R17 106V)
all-season
Out of Stock
£164.99
Continental CrossContact ATR XL FR (245/70 R17 114T)
all-season
Out of Stock
£185.99