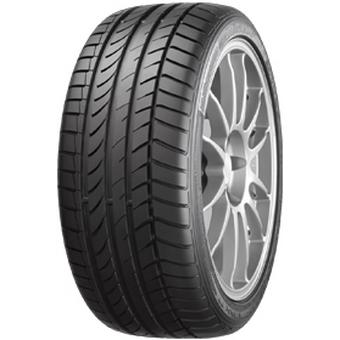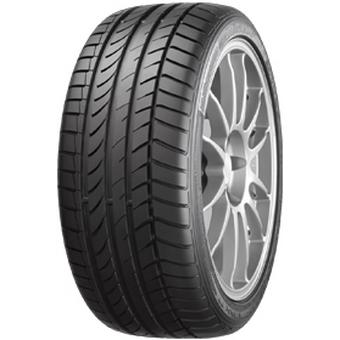 15% off
4 tyres when using our mobile fitting service.
Enter code:
BF15 at checkout
*Subject to availability.
T&Cs apply
Good quality premium tyre
Superior handling
Excellent braking
summer
Dunlop
Dunlop has been at the forefront of tyre innovations, with a series of firsts - both in race results and technological developments. With over 100 years of tyre industry experience, Dunlop has grown to become one of the world's biggest and most trusted brands. Dunlop continues to innovate, pushing the development of new compounds and technologies through the rigours of two and four-wheeled motorsport. What Dunlop learn on the track enables them to continually surpass their own benchmarks on the world's roads and race circuits, applying the 'Race to Road' philosophy.
SP SportMaxx
The SP SportMaxx gives maximum grip and handling for maximum driving pleasure and is designed for high performance sports cars. It has outstanding dry and wet handling and superb braking and acceleration performance and yet has a great degree of stability and comfort.
Other tyres in this range
Tyre Variation
Features
Availability
Price
Dunlop SP Sport Maxx (215/35 R18 84Y) MFS XL 68EC
summer
Out of Stock
£114.99
Dunlop SP Sport Maxx (275/50 R20 113W) MFS XL MO 71CC
summer

mo
Out of Stock
£233.99
Dunlop SP Sport Maxx (255/35 R20 97Y) MFS XL (J) 71EB
summer

ja
In Stock
£172.99
Dunlop SP Sport Maxx (285/30 R20 99Y) MFS XL (J) 72EA
summer

ja
In Stock
£199.99
Dunlop SP Sport Maxx (255/35 R20 97Y) MFS XL (J) 71EB
summer

ja
Out of Stock
£189.99
Dunlop SP Sport Maxx (295/30 R22 103Y) MFS XL 71EA
summer
Out of Stock
£247.99
Dunlop SP Sport Maxx (255/35 R20 97Y) MFS XL (J) 71FB
summer

ja
Low Stock
£195.99
Dunlop SP Sport Maxx (255/35 R20 97Y) MFS XL (J) 72EB
summer

ja
In Stock
£178.99
Dunlop SP SportMaxx (205/45 R16 83W)
summer
Out of Stock
£59.99
Dunlop SP Sport Maxx (255/45 R19 100V) MO 71EC
summer

mo
Out of Stock
£177.99
Dunlop SP SportMaxx (255/40 R20 101W)
summer
Out of Stock
£193.99
Dunlop SP Sport Maxx (275/35 R20 102Y) MFS XL 70EB
summer
Low Stock
£192.99
Dunlop SP Sport Maxx (275/50 R20 109W) MFS MO 70EB
summer

mo
Out of Stock
£181.99
Dunlop SP SportMaxx MFS (215/45 R16 86H)
summer
In Stock
£97.99
Dunlop SP SportMaxx MFS (215/45 R16 86V)
summer
Out of Stock
£132.99
Dunlop SP SportMaxx MFS MO (275/50 R20 109W)
summer

mo
Out of Stock
£193.99
Dunlop SP SportMaxx MFS XL (305/30 R22 105Y)
summer
Low Stock
£273.99
Dunlop SP SportMaxx MO (235/50 R19 99V)
summer

mo
Out of Stock
£121.99
Dunlop SP SportMaxx MFS MO (275/55 R19 111V)
summer

mo
In Stock
£167.99
Dunlop SP SportMaxx MFS XL (325/30 R21 108Y)
summer
Out of Stock
£265.99
Dunlop SP SportMaxx MO (255/45 R19 100V)
summer

mo
Out of Stock
£189.99
Dunlop SP SportMaxx MFS ROF XL *BMW (275/40 R20 106W)
In Stock
£220.99
Dunlop SP SportMaxx MFS XL (J) (255/35 R20 97Y)
summer

ja
Out of Stock
£189.99
Dunlop SP SportMaxx MFS ROF XL *BMW (285/35 R21 105Y)
In Stock
£271.99
Dunlop SP SportMaxx MFS XL (J) (285/30 R20 99Y)
summer

ja
Out of Stock
£224.99
Dunlop SP SportMaxx MFS ROF XL *BMW (315/35 R20 110W) 2014
In Stock
£269.99
Dunlop SP SportMaxx MFS XL AO (245/45 R17 99Y)
summer

ao
Low Stock
£125.99
Dunlop SP SportMaxx MFS ROF XL *BMW (325/30 R21 108Y)
In Stock
£372.99
Dunlop SP SportMaxx MFS XL MO (235/45 R20 100W)
summer

mo
Out of Stock
£194.99
Dunlop SP SportMaxx MFS XL (205/45 R18 90W)
summer
Out of Stock
£137.99
Dunlop SP SportMaxx MFS XL MO (255/40 R20 101W)
summer

mo
Out of Stock
£205.99
Dunlop SP SportMaxx XL J (285/30 R20 99Y)
summer

ja
Out of Stock
£224.99
Dunlop SP SportMaxx MFS XL (215/40 R17 87V) 2014
summer
Out of Stock
£130.99
Dunlop SP SportMaxx XL (255/40 R17 98Y)
summer
Low Stock
£133.99
Dunlop SP SportMaxx MFS XL RO1 (275/40 R21 107Y)
summer
In Stock
£219.99
Dunlop SP SportMaxx XL (265/35 R22 102Y)
summer
Out of Stock
£210.99
Dunlop SP SportMaxx MFS XL RO1 (295/35 R21 107Y)
summer
In Stock
£191.99
Dunlop SP SportMaxx XL (275/30 R19 96Y)
summer
Out of Stock
£186.99
Dunlop SP SportMaxx MFS XL RO1 (295/40 R20 110Y)
summer
Low Stock
£204.99
Dunlop SP SportMaxx XL (275/35 R19 100Y)
summer
In Stock
£154.99
Dunlop SP SportMaxx XL (275/35 R20 102Y)
summer
Out of Stock
£211.99
Dunlop SP Sport Maxx (225/50 R18 95V) ROF 67EC
summer

run-flat
Low Stock
£97.99
Dunlop SP Sport Maxx (255/35 R20 97Y) MFS XL (J)
summer
Out of Stock
£183.99
Dunlop SP Sport Maxx 225/40 R18 92Y MFS XL
summer
Out of Stock
£104.99
Dunlop SP Sport Maxx 245/40 R17 91Y MFS XL
summer
Out of Stock
£128.99
Dunlop SP Sport Maxx 245/35 R19 93Y XL
summer
Out of Stock
£182.99