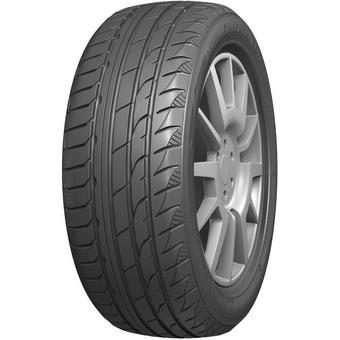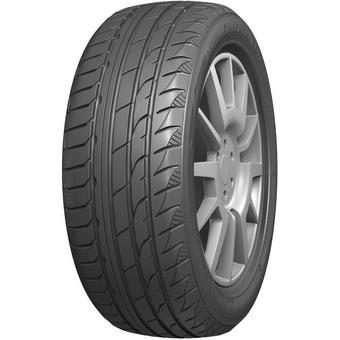 Fully fitted
Price includes valve*, balance and environmental disposal of your old tyres - no hidden extras! *Specialist valves will incur an additional charge. Please enquire in centre.
High-performance tyre
Increased wet and dry grip
Improved aquaplaning resistance
summer
The Evergreen DynaControl EU728 is an ultra-high-performance tyre with an advanced silica compound and an improved aquaplaning resistance for increased wet and dry grip.
The tyre has multiple biting edges in the outer shoulder block which is designed to improve cornering grip, whilst the optimised central tread rib design ensures increased levels of stability and high-speed braking performance. The advanced silica compound not only improves wet and dry grip but also offers low rolling resistance and high levels of durability. There tread design also has four wide circumferential groove channels ensure maximum water dispersion to improve aquaplaning resistance. The improved tread block arrangement will reduce road noise.
Other tyres in this range
Tyre Variation
Features
Availability
Price
Evergreen DynaControl EU728 (205/50 R17 93W) XL
summer
In Stock
£79.99
Evergreen DynaControl EU728 (215/55 R16 97W) XL
summer
In Stock
£69.99
Evergreen DynaControl EU728 (205/55 R16 91V) 71EC
summer
Out of Stock
£62.99
Evergreen DynaControl EU728 (225/35 R19 88W) XL
summer
In Stock
£102.99
Evergreen DynaControl EU728 (205/55 R16 91W)
summer
In Stock
£62.99
Evergreen DynaControl EU728 (225/40 R18 92W) XL
summer
In Stock
£78.99
Evergreen DynaControl EU728 (245/40 R17 95W) XL
summer
In Stock
£83.99
Evergreen DynaControl EU728 (265/35 R18 97Y) XL
summer
In Stock
£108.99
Evergreen DynaControl EU728 (205/55 R16 94W) XL
summer
In Stock
£62.99
Evergreen DynaControl EU728 (225/45 R17 94W) XL
summer
In Stock
£68.99
Evergreen DynaControl EU728 (245/40 R18 97Y) XL
summer
In Stock
£95.99
Evergreen DynaControl EU728 (275/30 R19 96Y) XL
summer
Out of Stock
£62.99
Evergreen DynaControl EU728 (205/55 R17 95V) XL
summer
In Stock
£83.99
Evergreen DynaControl EU728 (225/50 R17 98W) XL
summer
In Stock
£91.99
Evergreen DynaControl EU728 (245/40 R19 98W) XL
summer
In Stock
£123.99
Evergreen DynaControl EU728 (215/40 R18 89W) XL
summer
In Stock
£90.99
Evergreen DynaControl EU728 (235/40 R19 96W) XL
summer
In Stock
£129.99
Evergreen DynaControl EU728 (245/40 R20 99W) XL
summer
In Stock
£133.99
Evergreen DynaControl EU728 (215/45 R16 90W) XL
summer
In Stock
£81.99
Evergreen DynaControl EU728 (235/45 R18 98W) XL
summer
In Stock
£62.99
Evergreen DynaControl EU728 (255/35 R18 94W) XL
summer
In Stock
£62.99
Evergreen DynaControl EU728 (205/50 R16 87W)
summer
In Stock
£67.99
Evergreen DynaControl EU728 (215/45 R18 93W) XL
summer
In Stock
£101.99
Evergreen DynaControl EU728 (235/45 R18 98W) XL 71EC
summer
In Stock
£97.99
Evergreen DynaControl EU728 (255/35 R19 96Y) XL
summer
In Stock
£115.99
Evergreen DynaControl EU728 (215/50 R17 95W) XL
summer
In Stock
£79.99
Evergreen DynaControl EU728 (235/50 R17 100W) XL
summer
In Stock
£91.99
Evergreen DynaControl EU728 (255/35 R20 97Y) XL
summer
In Stock
£118.99
Evergreen DynaControl EU728 (215/55 R16 93W)
summer
In Stock
£74.99
Evergreen DynaControl EU728 (245/35 R20 95W) XL
summer
In Stock
£94.99
Evergreen DynaControl EU728 (255/40 R17 98W) XL
summer
In Stock
£101.99
Evergreen DynaControl EU728 (255/45 R17 102W) XL
summer
In Stock
£98.99
Evergreen DynaControl EU728 (265/30 R19 93Y) XL
summer
Out of Stock
£138.99