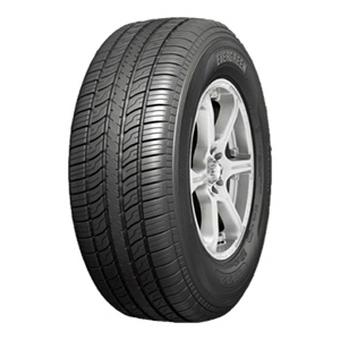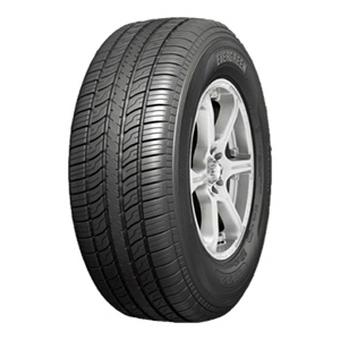 Fully fitted
Price includes valve*, balance and environmental disposal of your old tyres - no hidden extras! *Specialist valves will incur an additional charge. Please enquire in centre.
Great value quality tyre
Engineered for quietness
Good handling in wet or dry
summer
The EH22 is an all-round road tyre. Its innovative tread pattern provides good handling in wet and dry conditons, safety and comfort.
Other tyres in this range
Tyre Variation
Features
Availability
Price
Evergreen EH22 (165/60 R14 75H)
summer
In Stock
£49.99
Evergreen EH22 (165/80 R13 83T)
summer
In Stock
£50.99
Evergreen EH22 (185/70 R13 86T)
summer
In Stock
£62.99
Evergreen EH22 (165/60 R14 75H) 75FB
summer
Out of Stock
£45.99
Evergreen EH22 (165/80 R13 83T) 72EB
summer
Out of Stock
£45.99
Evergreen EH22 (185/70 R13 86T) 72EB
summer
Out of Stock
£45.99
Evergreen EH22 (215/60 R16 95V) 75EB
summer
Out of Stock
£45.99
Evergreen EH22 (165/65 R13 77T)
summer
Out of Stock
£46.99
Evergreen EH22 (175/65 R14 82T)
summer
Out of Stock
£48.99
Evergreen EH22 (185/70 R14 88H)
summer
Out of Stock
£62.99
Evergreen EH22 (225/60 R16 98V)
summer
Out of Stock
£91.99
Evergreen EH22 (165/65 R13 77T) 75FB
summer
Out of Stock
£45.99
Evergreen EH22 (175/65 R14 82T) 75EB
summer
Out of Stock
£45.99
Evergreen EH22 (185/70 R14 88H) 72EB
summer
Out of Stock
£45.99
Evergreen EH22 XL (165/70 R13 83T)
summer
In Stock
£54.99
Evergreen EH22 (155/65 R13 73T)
summer
In Stock
£46.99
Evergreen EH22 (175/65 R14 86T) XL 75EB
summer
Out of Stock
£45.99
Evergreen EH22 (165/70 R13 79T)
summer
In Stock
£48.99
Evergreen EH22 (195/70 R14 91T)
summer
In Stock
£70.99
Evergreen EH22 XL (165/70 R14 85T)
summer
Out of Stock
£52.99
Evergreen EH22 (155/65 R13 73T) 75FB
summer
Out of Stock
£45.99
Evergreen EH22 (175/70 R13 82T)
summer
In Stock
£46.99
Evergreen EH22 (165/70 R13 79T) 72FB
summer
Out of Stock
£45.99
Evergreen EH22 (195/70 R14 91T) 75EB
summer
Out of Stock
£45.99
Evergreen EH22 XL (175/65 R14 86T)
summer
Out of Stock
£54.99
Evergreen EH22 (155/70 R13 75T)
summer
Out of Stock
£45.99
Evergreen EH22 (175/70 R13 82T) 72EB
summer
Out of Stock
£45.99
Evergreen EH22 (165/70 R13 83T) XL 72EB
summer
Out of Stock
£45.99
Evergreen EH22 (205/70 R14 98T) XL 75EB
summer
Out of Stock
£45.99
Evergreen EH22 XL (175/70 R14 88T)
summer
In Stock
£53.99
Evergreen EH22 (155/70 R13 75T) 72FB
summer
Out of Stock
£45.99
Evergreen EH22 (175/70 R14 84T)
summer
Out of Stock
£50.99
Evergreen EH22 (165/70 R14 81T)
summer
Out of Stock
£50.99
Evergreen EH22 (205/70 R15 96T)
summer
Low Stock
£80.99
Evergreen EH22 XL (205/70 R14 98T)
summer
In Stock
£65.99
Evergreen EH22 (155/80 R13 79T)
summer
In Stock
£45.99
Evergreen EH22 (175/70 R14 84T) 72EB
summer
Out of Stock
£45.99
Evergreen EH22 (165/70 R14 81T) 72EB
summer
Out of Stock
£45.99
Evergreen EH22 (205/70 R15 96T) 75EB
summer
Out of Stock
£45.99
Evergreen EH22 (155/80 R13 79T) 72FB
summer
In Stock
£45.99
Evergreen EH22 (175/70 R14 88T) XL 72EB
summer
Out of Stock
£45.99
Evergreen EH22 (165/70 R14 85T) XL 72EB
summer
Out of Stock
£45.99
Evergreen EH22 (215/60 R16 95V)
summer
In Stock
£74.99