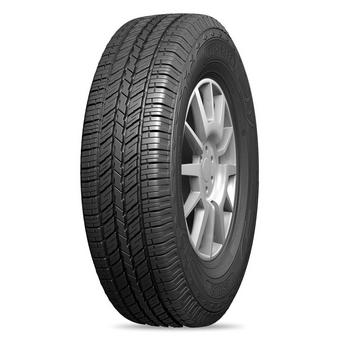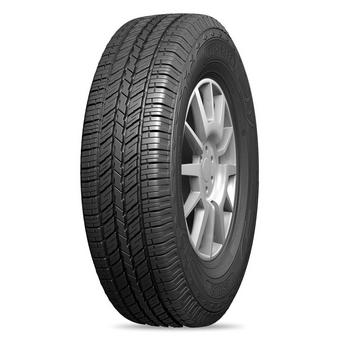 Fully fitted
Price includes valve*, balance and environmental disposal of your old tyres - no hidden extras! *Specialist valves will incur an additional charge. Please enquire in centre.
4X4 tyre
Improved handling
Good wet grip and handling
summer
The ES82 is an all season road tyre with good handling in wet and dry and condtions.
Other tyres in this range
Tyre Variation
Features
Availability
Price
Evergreen ES82 (215/65 R16 98T)
summer
Low Stock
£79.99
Evergreen ES82 (235/60 R18 107H) XL 72EC
summer
Out of Stock
£79.99
Evergreen ES82 (215/65 R16 98T) 71EB
summer
Out of Stock
£79.99
Evergreen ES82 (235/65 R17 104S) 72EC
summer
In Stock
£115.99
Evergreen ES82 (215/70 R16 100T) 72EC
summer
Out of Stock
£92.99
Evergreen ES82 (235/65 R17 104S) 72EC
summer
Low Stock
£79.99
Evergreen ES82 (215/70 R16 100T) 72EC
summer
Out of Stock
£79.99
Evergreen ES82 (235/70 R16 106T) 72CC
summer
Out of Stock
£79.99
Evergreen ES82 (215/75 R15 100S) 71EB
summer
Out of Stock
£79.99
Evergreen ES82 (235/75 R15 105S)
summer
Out of Stock
£93.99
Evergreen ES82 (225/65 R17 102S)
summer
In Stock
£97.99
Evergreen ES82 (235/75 R15 105S) 73EB
summer
In Stock
£79.99
Evergreen ES82 (225/65 R17 102S) 71EB
summer
Out of Stock
£79.99
Evergreen ES82 (245/65 R17 107S) 72EC
summer
Out of Stock
£79.99
Evergreen ES82 (225/70 R16 103T) 72EC
summer
Out of Stock
£79.99
Evergreen ES82 (245/70 R16 111T) XL 72CC
summer
Out of Stock
£79.99
Evergreen ES82 (225/75 R15 102T) 71EB
summer
Out of Stock
£79.99
Evergreen ES82 (265/65 R17 112S) 72CC
summer
Out of Stock
£79.99
Evergreen ES82 (235/60 R18 107H) XL 72EC
summer
In Stock
£112.99
Evergreen ES82 (215/60 R17 96H) 72EC
summer
In Stock
£81.99
Evergreen ES82 (265/70 R16 112S) 72CC
summer
Out of Stock
£79.99
Evergreen ES82 (215/60 R17 96H) 72EC
summer
Out of Stock
£79.99