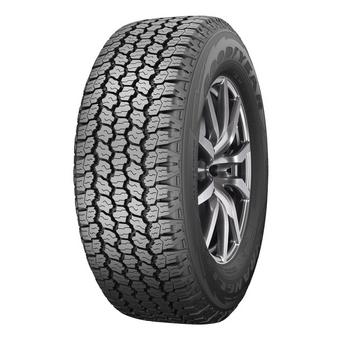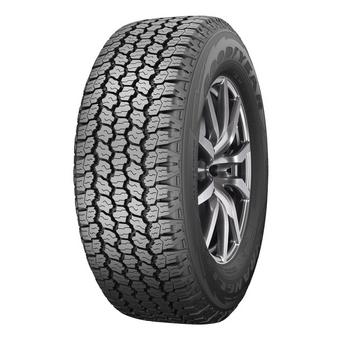 15% off
4 tyres when using our mobile fitting service.
Enter code:
BF15 at checkout
*Subject to availability.
T&Cs apply
Confident grip to help stay in control of the journey
Tough and durable tyre for off-road driving performance
summer
Kevlar Reinforced Layer
Resist punctures and cuts for confident off-road driving.
DuraWall Technology
Offers toughness and helps resist cuts in the sidewall area.
Optimized tread design
Even pressure distribution across the footprint for improved mileage.
Enhanced biting edges
Biting edges create more traction between the tyre and road surface, providing confident Grip and Braking.
Open shoulder blocks
Helps to evacuate mud from the tread, improving off-road traction
Other tyres in this range
Tyre Variation
Features
Availability
Price
Goodyear Wrangler All-Terrain Adventure (245/75 R15 109/107S)
summer
Out of Stock
£106.99
Goodyear Wrangler All-Terrain Adventure (235/85 R16 120/116Q)
summer
Out of Stock
£146.99
Goodyear Wrangler All-Terrain Adventure (255/65 R17 110T)
summer
In Stock
£126.99
Goodyear Wrangler All-Terrain Adventure (235/65 R17 108T) XL
summer
In Stock
£118.99
Goodyear Wrangler All-Terrain Adventure (245/70 R16 111/109T)
summer
In Stock
£112.99
Goodyear Wrangler All-Terrain Adventure (225/75 R16 108T) XL
summer
Low Stock
£109.99
Goodyear Wrangler All-Terrain Adventure (225/70 R16 107T) XL
summer
In Stock
£106.99
Goodyear Wrangler All-Terrain Adventure (265/75 R15 113/111T)
summer
In Stock
£113.99
Goodyear Wrangler All-Terrain Adventure (265/65 R17 112T)
summer
In Stock
£122.99
Goodyear Wrangler All-Terrain Adventure (225/75 R15 106T) XL
summer
Low Stock
£124.99
Goodyear Wrangler All-Terrain Adventure (265/75 R16 112/109Q)
summer
In Stock
£138.99
Goodyear Wrangler All-Terrain Adventure (205/75 R15 102T) XL
summer
Low Stock
£92.99
Goodyear Wrangler All-Terrain Adventure (265/70 R17 115T)
summer
Out of Stock
£140.99
Goodyear Wrangler All-Terrain Adventure (255/70 R15 112/110T)
summer
Low Stock
£115.99
Goodyear Wrangler All-Terrain Adventure (205/70 R15 100T) XL
summer
In Stock
£91.99
Goodyear Wrangler All-Terrain Adventure (255/70 R16 111T)
summer
In Stock
£113.99
Goodyear Wrangler All-Terrain Adventure (265/60 R18 110T)
summer
Low Stock
£137.99
Goodyear Wrangler All-Terrain Adventure (235/70 R16 109T) XL
summer
Out of Stock
£118.99
Goodyear Wrangler All-Terrain Adventure (215/80 R15 111/109T)
summer
Out of Stock
£89.99
Goodyear Wrangler All-Terrain Adventure (245/75 R16 114/111Q)
summer
In Stock
£121.99
Goodyear Wrangler All-Terrain Adventure (215/70 R16 104T) XL
summer
Out of Stock
£95.99
Goodyear Wrangler All-Terrain Adventure (255/55 R19 111H) XL
summer
In Stock
£141.99
Goodyear Wrangler All-Terrain Adventure (275/55 R20 113T) OWL
summer
Out of Stock
£221.99
Goodyear Wrangler All-Terrain Adventure (235/75 R15 109T) XL
summer
In Stock
£104.99
Goodyear Wrangler All-Terrain Adventure (255/55 R18 109H) XL
summer
Out of Stock
£121.99
Goodyear Wrangler All-Terrain Adventure (245/65 R17 111T) XL
summer
Out of Stock
£144.99
Goodyear Wrangler All-Terrain Adventure (255/60 R20 113H) XL LR
summer
In Stock
£170.99
Goodyear Wrangler All-Terrain Adventure (255/65 R19 114H) XL LR
summer
In Stock
£152.99
Goodyear Wrangler All-Terrain Adventure (255/70 R18 116H) FP XL LR
summer
In Stock
£136.99
Goodyear Wrangler All-Terrain Adventure (265/70 R16 112T)
summer
In Stock
£149.99
Goodyear Wrangler All-Terrain Adventure 265/60 R18 110H
summer
Out of Stock
£142.99
Goodyear Wrangler All-Terrain Adventure 245/70 R17 119/116S
summer
Out of Stock
£168.99
Goodyear Wrangler All-Terrain Adventure 265/70 R16 112T
summer
Out of Stock
£122.99
Goodyear Wrangler All-Terrain Adventure 245/70 R16 111/109T OWL
summer
Out of Stock
£115.99