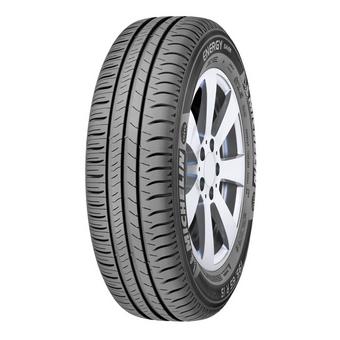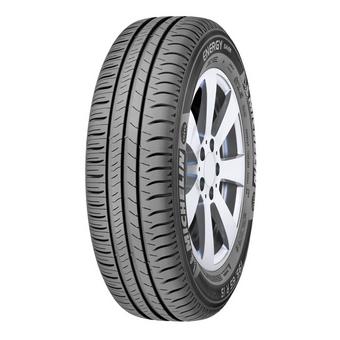 Price includes valve*, balance and environmental disposal of your old tyres - no hidden extras! *Specialist valves will incur an additional charge. Please enquire in centre.
The best quality tyre available
Optimised profile provides excellent grip.
Special under-tread layer reduces fuel consumption
summer
Michelin Energy Saver+ will save 60 litres of fuel over its predecessor and yet retains Michelins safety and longevity excellence.
Other tyres in this range
Tyre Variation
Features
Availability
Price
Michelin Energy Saver Plus (205/55 R16 91W) AO 70BA
summer

ao
Out of Stock
£98.99
Michelin Energy Saver+ GRNX (165/65 R14 79T)
summer
Out of Stock
£68.99
Michelin Energy Saver+ GRNX (185/60 R14 82H)
summer
In Stock
£67.99
Michelin Energy Saver Plus (205/55 R16 94H) XL S1 70AA
summer
Out of Stock
£105.99
Michelin Energy Saver+ GRNX (165/65 R15 81T)
summer
Out of Stock
£83.99
Michelin Energy Saver+ GRNX (195/65 R15 91V)
summer
Out of Stock
£71.99
Michelin Energy Saver+ GRNX (195/55 R15 85H)
summer
Out of Stock
£66.99
Michelin Energy Saver+ GRNX (185/60 R15 84H)
summer
In Stock
£90.99
Michelin Energy Saver Plus (205/60 R16 92H) AO 70BA
summer

ao
Out of Stock
£122.99
Michelin Energy Saver+ GRNX (215/60 R16 95H)
summer
Low Stock
£149.99
Michelin Energy Saver+ GRNX (165/70 R14 81T)
summer
In Stock
£65.99
Michelin Energy Saver+ GRNX (195/55 R15 85V)
summer
In Stock
£98.99
Michelin Energy Saver+ GRNX (195/70 R14 91T)
summer
Out of Stock
£105.99
Michelin Energy Saver Plus (165/65 R15 81T) SS 68BA
summer
Out of Stock
£96.99
Michelin Energy Saver+ GRNX (185/60 R15 84T)
summer
Out of Stock
£96.99
Michelin Energy Saver Plus (205/60 R16 92W) MO 70BA
summer

mo
In Stock
£110.99
Michelin Energy Saver+ XL (205/55 R16 94H)
summer
Out of Stock
£95.99
Michelin Energy Saver+ GRNX (215/60 R16 95V)
summer
Out of Stock
£120.99
Michelin Energy Saver+ GRNX (175/65 R14 82H)
summer
In Stock
£76.99
Michelin Energy Saver Plus (185/60 R15 84H) AO 68CA
summer

ao
Out of Stock
£97.99
Michelin Energy Saver+ GRNX (195/55 R16 87H)
summer
Out of Stock
£93.99
Michelin Energy Saver+ GRNX (185/65 R14 86H)
summer
In Stock
£75.99
Michelin Energy Saver Plus (205/60 R16 96V) XL *BMW 70BA
summer

bm
Out of Stock
£140.99
Michelin Energy Saver+ GRNX (205/55 R16 91H)
summer
Out of Stock
£76.99
Michelin Energy Saver+ GRNX (215/65 R15 96H)
summer
Out of Stock
£105.99
Michelin Energy Saver+ GRNX (175/65 R14 82T)
summer
In Stock
£63.99
Michelin Energy Saver Plus (185/60 R15 84T) SS 68CA
summer
Out of Stock
£118.99
Michelin Energy Saver+ GRNX (205/55 R16 91V)
summer
Out of Stock
£89.99
Michelin Energy Saver+ GRNX (185/65 R14 86T)
summer
Out of Stock
£74.99
Michelin Energy Saver+ GRNX XL (185/55 R16 87H)
summer
Out of Stock
£126.99
Michelin Energy Saver Plus (205/65 R16 95V) MO 70AA
summer

mo
Out of Stock
£149.99
Michelin Energy Saver+ GRNX (175/65 R15 84H)
summer
In Stock
£76.99
Michelin Energy Saver Plus (195/60 R15 88V) DT 70CB
summer
Out of Stock
£88.99
Michelin Energy Saver+ GRNX (205/60 R15 91H)
summer
Out of Stock
£85.99
Michelin Energy Saver+ GRNX (185/65 R15 88H)
summer
In Stock
£85.99
Michelin Energy Saver Plus (195/65 R15 91T) S1 70BA
summer
Out of Stock
£71.99
Michelin Energy Saver+ GRNX XL (185/60 R15 88H)
summer
Out of Stock
£93.99
Michelin Energy Saver+ GRNX (175/70 R14 84T)
summer
In Stock
£79.99
Michelin Energy Saver+ GRNX (205/60 R15 91V)
summer
In Stock
£93.99
Michelin Energy Saver+ GRNX (185/65 R15 88T)
summer
In Stock
£70.99
Michelin Energy Saver+ GRNX (195/60 R15 88H)
summer
In Stock
£84.99
Michelin Energy Saver+ GRNX (185/55 R14 80H)
summer
Out of Stock
£90.99
Michelin Energy Saver+ GRNX (205/60 R16 92H)
summer
Out of Stock
£128.99
Michelin Energy Saver+ GRNX XL (195/55 R16 91T)
summer
Out of Stock
£122.99
Michelin Energy Saver+ GRNX (185/70 R14 88H)
summer
Out of Stock
£90.99
Michelin Energy Saver+ GRNX (195/60 R15 88T)
summer
Out of Stock
£83.99
Michelin Energy Saver+ GRNX (185/55 R15 82H)
summer
In Stock
£90.99
Michelin Energy Saver Plus (205/55 R16 91V) *BMW 70BA
summer

bm
Out of Stock
£110.99
Michelin Energy Saver+ GRNX (205/60 R16 92V)
summer
Out of Stock
£135.99
Michelin Energy Saver+ GRNX XL (195/55 R16 91V)
summer
Out of Stock
£125.99
Michelin Energy Saver+ G1 GRNX (195/65 R15 91H)
summer
Out of Stock
£63.99
Michelin Energy Saver+ GRNX (195/60 R15 88V)
summer
In Stock
£86.99
Michelin Energy Saver+ GRNX (185/70 R14 88T)
summer
Out of Stock
£93.99
Michelin Energy Saver+ GRNX (185/55 R16 83V)
summer
Out of Stock
£71.99
Michelin Energy Saver+ GRNX (205/65 R15 94H)
summer
In Stock
£99.99
Michelin Energy Saver+ GRNX XL (195/65 R15 95T)
summer
Out of Stock
£85.99
Michelin Energy Saver+ GRNX (195/65 R15 91H)
summer
Out of Stock
£93.99
Michelin Energy Saver+ GRNX (195/50 R15 82T)
summer
Low Stock
£73.99
Michelin Energy Saver+ GRNX (205/65 R15 94V)
summer
Low Stock
£99.99
Michelin Energy Saver+ GRNX XL (205/60