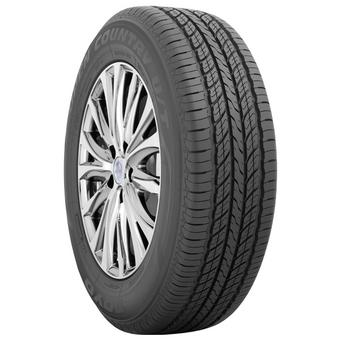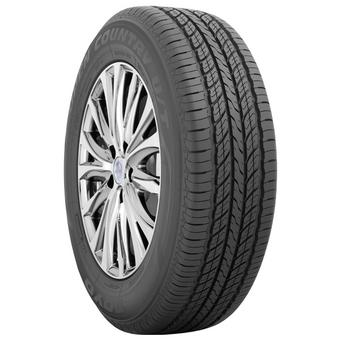 Price includes valve*, balance and environmental disposal of your old tyres - no hidden extras! *Specialist valves will incur an additional charge. Please enquire in centre.
The Toyo Open Country U/T is a SUV tyre for uban and highway use.
summer
Open Country U/T has been developed to satisfy owners of a wide variety of contemporary luxury Pickups and SUVs requiring quiet and comfortable ride, stable handling capabilities, and low fuel consumption in urban type of road operations. With its purely functional tread design and special silica tread compound the Open Country U/T has accomplished its design goal of low pattern noise, improved fuel consumption, excellent handling and braking performance on both wet and dry.
Other tyres in this range
Tyre Variation
Features
Availability
Price
Toyo Open Country U/T (225/55 R19 99V) 71EC
summer
Out of Stock
£128.99
Toyo Open Country U/T (235/65 R17 104H) 71EC
summer
Out of Stock
£115.99
Toyo Open Country U/T (265/70 R17 115H) 71EC
summer
Out of Stock
£167.99
Toyo Open Country U/T (225/60 R18 100H) 71EC
summer
Out of Stock
£123.99
Toyo Open Country U/T (235/65 R17 108V) XL 71EC
summer
Out of Stock
£114.99
Toyo Open Country U/T (265/70 R18 116H) 71EC
summer
Out of Stock
£176.99
Toyo Open Country U/T (215/55 R17 94V) 71EC
summer
Out of Stock
£105.99
Toyo Open Country U/T (225/65 R17 102H) 71EC
summer
Out of Stock
£107.99
Toyo Open Country U/T (275/65 R17 115H) 72EC
summer
Out of Stock
£146.99
Toyo Open Country U/T (215/55 R18 99V) XL 71EC
summer
Out of Stock
£118.99
Toyo Open Country U/T (245/65 R17 111H) XL 71EC
summer
Out of Stock
£131.99
Toyo Open Country U/T (275/65 R18 116H) 72EC
summer
Out of Stock
£177.99
Toyo Open Country U/T (215/60 R17 96V) 71EC
summer
Out of Stock
£109.99
Toyo Open Country U/T (235/55 R18 104V) XL 71EC
summer
Low Stock
£134.99
Toyo Open Country U/T (245/70 R16 111H) XL 71EC
summer
Out of Stock
£114.99
Toyo Open Country U/T (285/65 R17 116H) 72EC
summer
Out of Stock
£168.99
Toyo Open Country U/T (215/65 R16 102V) XL 71EC
summer
In Stock
£97.99
Toyo Open Country U/T (215/65 R16 98H) 71EC
summer
Out of Stock
£87.99
Toyo Open Country U/T (255/65 R17 110H) 71EC
summer
Out of Stock
£134.99
Toyo Open Country U/T (215/70 R16 100H) 71EE
summer
Out of Stock
£96.99
Toyo Open Country U/T (235/60 R17 102H) 71EC
summer
Out of Stock
£128.99
Toyo Open Country U/T (255/70 R16 111H) 71EC
summer
Out of Stock
£156.99
Toyo Open Country U/T (225/55 R18 98V) 71EC
summer
Out of Stock
£118.99
Toyo Open Country U/T (265/65 R17 112H) 71EC
summer
In Stock
£124.99
Toyo Open Country U/T (265/70 R16 112H) 71EC
summer
Out of Stock
£122.99