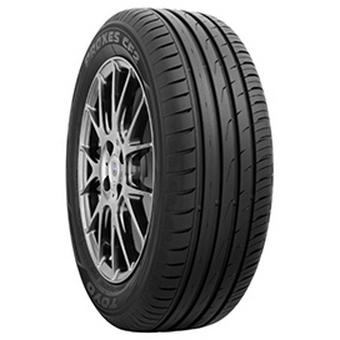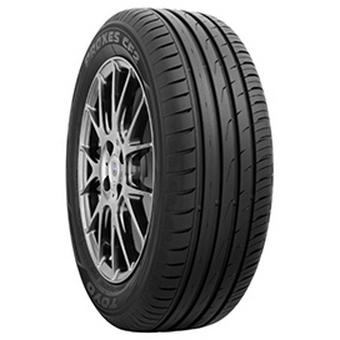 Fully fitted
Price includes valve*, balance and environmental disposal of your old tyres - no hidden extras! *Specialist valves will incur an additional charge. Please enquire in centre.
Good quality mid-range tyre
Designed for medium and high powered cars
High level of safety, durability and comfort.
The Proxes CF2 has been created to take advantage of the latest materials, structures and tread pattern design in order to guarantee a high level of safety, durability, savings, and comfort. The Proxes CF2 benefits from an improved tyre construction and a new full-silica tread compound. The new tyre has a longer tyre life, better wet performance and lower fuel consumption. The Proxes CF2 is the right choice for drivers looking for a high performing and safe tyre for medium and high powered cars.
How It Works
We've got several finance options to help you spread the cost, covering spends over £99*.
Other tyres in this range
Tyre Variation
Features
Availability
Price
Toyo Proxes CF2 (175/65 R14 82H) 70CB
summer
In Stock
£50.99
Toyo Proxes CF2 (175/65 R15 84H)
summer
In Stock
£55.99
Toyo Proxes CF2 (185/50 R16 81H) 70CB
summer
Out of Stock
£50.99
Toyo Proxes CF2 (195/50 R15 82H)
summer
In Stock
£50.99
Toyo Proxes CF2 (185/55 R14 80H)
summer
In Stock
£63.99
Toyo Proxes CF2 (195/55 R15 85H)
summer
In Stock
£63.99
Toyo Proxes CF2 (185/55 R15 82H)
summer
In Stock
£60.99
Toyo Proxes CF2 (195/55 R16 87H) 70CB
summer
In Stock
£67.99
Toyo Proxes CF2 (185/60 R13 80H) 70CB
summer
Out of Stock
£63.99
Toyo Proxes CF2 (205/50 R16 87V)
summer
Low Stock
£76.99
Toyo Proxes CF2 (195/60 R15 88H)
summer
Out of Stock
£60.99
Toyo Proxes CF2 (205/60 R16 92V) 70CB
summer
Out of Stock
£72.99
Toyo Proxes CF2 (225/55 R17 97V)
summer
Out of Stock
£90.99
Toyo Proxes CF2 (185/60 R14 82H) 70CB
summer
In Stock
£51.99
Toyo Proxes CF2 (205/50 R17 89V)
summer
Out of Stock
£90.99
Toyo Proxes CF2 (195/60 R15 88V)
summer
In Stock
£62.99
Toyo Proxes CF2 (165/60 R14 75H) 70CB
summer
Out of Stock
£56.99
Toyo Proxes CF2 (205/65 R15 94H)
summer
Out of Stock
£74.99
Toyo Proxes CF2 (225/60 R15 96W) 70CB
summer
Out of Stock
£50.99
Toyo Proxes CF2 (185/60 R15 84H)
summer
In Stock
£59.99
Toyo Proxes CF2 (205/55 R16 91H)
summer
In Stock
£58.99
Toyo Proxes CF2 XL (195/55 R16 91V)
summer
Out of Stock
£71.99
Toyo Proxes CF2 (165/60 R15 77H) 70CB
summer
Out of Stock
£59.99
Toyo Proxes CF2 (195/60 R16 89H)
summer
Out of Stock
£85.99
Toyo Proxes CF2 (205/65 R15 94V)
summer
Out of Stock
£70.99
Toyo Proxes CF2 (225/60 R16 98W) 70CB
summer
Out of Stock
£50.99
Toyo Proxes CF2 (185/65 R14 86H) 70CB
summer
Out of Stock
£56.99
Toyo Proxes CF2 (205/55 R16 91V)
summer
In Stock
£57.99
Toyo Proxes CF2 XL (195/65 R15 95H)
summer
In Stock
£53.99
Toyo Proxes CF2 (195/65 R14 89H) 70CB
summer
Out of Stock
£65.99
Toyo Proxes CF2 (175/60 R15 81V)
summer
Out of Stock
£62.99
Toyo Proxes CF2 (215/45 R16 86V)
summer
In Stock
£79.99
Toyo Proxes CF2 (235/45 R17 94V)
summer
Out of Stock
£86.99
Toyo Proxes CF2 (185/65 R15 88H)
summer
In Stock
£55.99
Toyo Proxes CF2 (205/55 R16 94H) XL 70CB
summer
Out of Stock
£61.99
Toyo Proxes CF2 XL (205/45 R17 88V)
summer
In Stock
£81.99
Toyo Proxes CF2 (195/65 R15 91H)
summer
In Stock
£54.99
Toyo Proxes CF2 (215/45 R16 90V) XL 70CB
summer
Out of Stock
£82.99
Toyo Proxes CF2 (235/60 R17 102H) 70CB
4x4

summer
In Stock
£109.99
Toyo Proxes CF2 (205/55 R16 94V) XL 70CB
summer
Out of Stock
£78.99
Toyo Proxes CF2 XL (205/60 R15 95H)
summer
Out of Stock
£62.99
Toyo Proxes CF2 (195/65 R15 91V)
summer
Low Stock
£53.99
Toyo Proxes CF2 (215/50 R17 95V) XL 70CB
summer
In Stock
£89.99
Toyo Proxes CF2 (235/65 R18 106H) SUV 70CB
4x4

summer
Out of Stock
£111.99
Toyo Proxes CF2 (205/55 R17 95V) XL 70CB
summer
In Stock
£89.99
Toyo Proxes CF2 XL (205/60 R16 96V)
summer
In Stock
£75.99
Toyo Proxes CF2 (205/45 R16 83H) 70CB
summer
Out of Stock
£50.99
Toyo Proxes CF2 (215/55 R16 93V)
summer
In Stock
£76.99
Toyo Proxes CF2 (205/60 R15 91H) 70CB
summer
Out of Stock
£67.99
Toyo Proxes CF2 XL (205/65 R15 99H)
summer
In Stock
£76.99
Toyo Proxes CF2 (215/55 R16 93W) 70CB
summer
Out of Stock
£79.99
Toyo Proxes CF2 XL (185/55 R16 87H)
summer
In Stock
£67.99
Toyo Proxes CF2 (205/60 R15 91V)
summer
In Stock
£62.99
Toyo Proxes CF2 XL (215/55 R16 97V)
summer
Low Stock
£81.99
Toyo Proxes CF2 (215/55 R17 94W) 70CB
summer
In Stock
£91.99
Toyo Proxes CF2 XL (185/60 R15 88H)
summer
In Stock
£59.99
Toyo Proxes CF2 (205/60 R16 92H)
summer
In Stock
£70.99
Toyo Proxes CF2 SUV (215/50 R18 92V)
summer
Out of Stock
£112.99
Toyo Proxes CF2 XL (215/60 R16 99V)
summer
Low Stock
£86.99
Toyo Proxes CF2 (215/60 R16 99H) XL 70CB
summer
Out of Stock
£93.99
Toyo Proxes CF2 XL (195/45 R16 84V)
summer
In Stock
£66.99
Toyo Proxes CF2 XL (225/45 R17 94V)
summer
In Stock
£71.99
Toyo Proxes CF2 XL (195/50 R16 88V)
summer
Out of Stock
£74.99