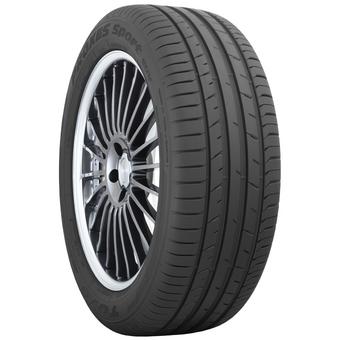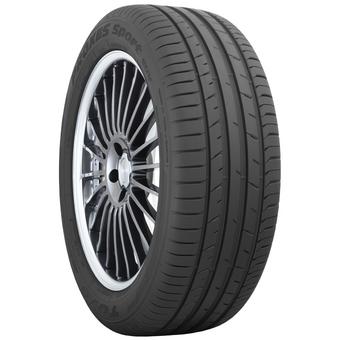 15% off
4 tyres when using our mobile fitting service.
Enter code:
BF15 at checkout
*Subject to availability.
T&Cs apply
The Toyo Proxes Sport SUV is designed as a focused, sports performance tyre.
summer
High speed handling and wet grip are the core requirements for drivers of the most powerful cars. Proxes Sport SUV was developed to meet these critical needs while still delivering ride comfort and mileage. Utilizing Nano Balance Technology, Proxes Sport SUV features an all-new compound delivering grip, wet or dry. The advanced tyre construction, combined with an optimized tread pattern design, offers enhanced steering response and increased driving enjoyment.
Other tyres in this range
Tyre Variation
Features
Availability
Price
Toyo Proxes Sport SUV (265/45 R20 108Y) XL 72CA
summer
In Stock
£180.99
Toyo Proxes Sport SUV (315/35 R20 110Y) XL 72CA
summer
In Stock
£206.99
Toyo Proxes Sport SUV (235/55 R19 105Y) XL 70CA
summer
Low Stock
£153.99
Toyo Proxes Sport SUV (265/50 R19 110Y) XL 70CA
summer
Low Stock
£162.99
Toyo Proxes Sport SUV (235/60 R18 107W) XL 70CA
summer
In Stock
£133.99
Toyo Proxes Sport SUV (265/50 R20 111Y) XL 70CA
summer
In Stock
£196.99
Toyo Proxes Sport SUV (235/65 R17 108W) XL 70CA
summer
In Stock
£109.99
Toyo Proxes Sport SUV (265/60 R18 110V) 70CA
summer
Low Stock
£139.99
Toyo Proxes Sport SUV (255/45 R20 105Y) XL 70CA
summer
Out of Stock
£193.99
Toyo Proxes Sport SUV (275/45 R19 108Y) XL 70CA
summer
In Stock
£179.99
Toyo Proxes Sport SUV (255/50 R19 107Y) XL 70CA
summer
Low Stock
£144.99
Toyo Proxes Sport SUV (275/45 R20 110Y) XL 70CA
summer
Out of Stock
£182.99
Toyo Proxes Sport SUV (255/50 R20 109Y) XL 70CA
summer
Low Stock
£186.99
Toyo Proxes Sport SUV (285/35 R22 106Y) XL 72CA
summer
In Stock
£188.99
Toyo Proxes Sport SUV (255/55 R18 109Y) XL 70CA
summer
In Stock
£123.99
Toyo Proxes Sport SUV (285/45 R19 111Y) XL 72CA
summer
Low Stock
£159.99
Toyo Proxes Sport SUV (255/55 R19 111Y) XL 70CA
summer
Low Stock
£141.99