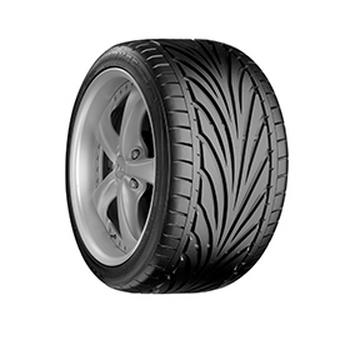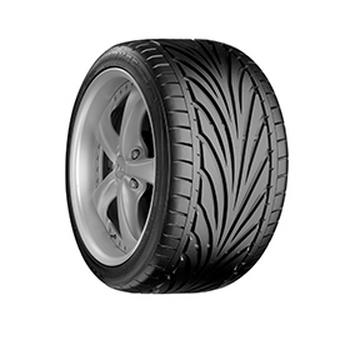 15% off
4 tyres when using our mobile fitting service.
Enter code:
BF15 at checkout
*Subject to availability.
T&Cs apply
High-speed stability
Excellent in wet and dry conditions
Superb braking performance
summer
Toyo
Toyo is one of the leading tyre manufacturers worldwide and is represented in more than 100 countries and regions. Established in 1945, the headquarters of the business is in Osaka, Japan. Toyo Tyres has been present in Europe for over thirty years. The core business of Toyo tyres is the development, manufacture and marketing of high-value, high performance tyres.
Proxes T1-R
Designed for sports cars, powerful saloons and coupes, the Proxes T1-R meets the need for high-speed stability and excellent handling in dry and wet conditions, while retaining low noise and optimum driving comfort. This new tyre takes advantage of modern design technology and provides stable steering response and traction thanks to the improved tread pattern design, resulting in superb braking performance as well as improved wear resistance.
Other tyres in this range
Tyre Variation
Features
Availability
Price
Toyo Proxes T1-R (185/55 R15 82V)
summer
Out of Stock
£64.99
Toyo Proxes T1-R (195/50 R15 82V) 70FC
summer
Out of Stock
£62.99
Toyo Proxes T1-R (205/40 R17 84W) XL 70FC
summer
In Stock
£89.99
Toyo Proxes T1-R (185/55 R15 82V) 70FC
summer
Out of Stock
£77.99
Toyo Proxes T1-R (215/40 R17 87W) XL 70FC
summer
Out of Stock
£111.99
Toyo Proxes T1-R (225/45 R16 93W) XL 70FC
summer
Out of Stock
£97.99
Toyo Proxes T1-R (195/50 R15 82V) 70FC
summer
In Stock
£62.99
Toyo Proxes T1-R (205/45 R15 81V) 70FC
summer
Out of Stock
£95.99
Toyo Proxes T1-R (235/45 R17 97Y) RP XL 71FE
summer
Out of Stock
£104.99
Toyo Proxes T1-R (205/55 R15 88V) 70FC
summer
Out of Stock
£68.99
Toyo Proxes T1-R (185/55 R15 82V) 70FC
summer
Low Stock
£77.99
Toyo Proxes T1-R (215/40 R17 87W) XL 70FC
summer
In Stock
£111.99
Toyo Proxes T1-R (225/45 R17 94W) XL 70FC
summer
Out of Stock
£79.99
Toyo Proxes T1-R (195/50 R16 84V) 70FC
summer
Out of Stock
£98.99
Toyo Proxes T1-R (205/45 R15 81V) 70FC
summer
In Stock
£87.99
Toyo Proxes T1-R (205/55 R15 88W) 69EC
summer
Out of Stock
£81.99
Toyo Proxes T1-R XL (205/50 R15 89V)
summer
Out of Stock
£84.99
Toyo Proxes T1-R (235/45 R17 97Y) XL 70FC
summer
Out of Stock
£98.99
Toyo Proxes T1-R (195/40 R16 80V) XL 70FC
summer
Out of Stock
£61.99
Toyo Proxes T1-R (215/45 R15 84V) 70FC
summer
Out of Stock
£106.99
Toyo Proxes T1-R (225/45 R17 94W) XL N0 71FE
summer

po
Out of Stock
£77.99
Toyo Proxes T1-R (195/50 R16 84V) 70FC
summer
In Stock
£98.99
Toyo Proxes T1-R (205/45 R16 87W) XL 70FC
summer
Out of Stock
£98.99
Toyo Proxes T1-R (205/55 R16 91W)
summer
Out of Stock
£70.99
Toyo Proxes T1-R (245/35 R16 86W) 70FC
summer
Out of Stock
£146.99
Toyo Proxes T1-R XL (215/40 R17 87W)
summer
Out of Stock
£111.99
Toyo Proxes T1-R (225/45 R17 94Y) RP XL 71FE
summer
Out of Stock
£83.99
Toyo Proxes T1-R (215/45 R15 84V) 70FC
summer
Out of Stock
£106.99
Toyo Proxes T1-R (195/45 R14 77V) 70FC
summer
Out of Stock
£77.99
Toyo Proxes T1-R (195/55 R15 85V)
summer
Out of Stock
£80.99
Toyo Proxes T1-R (205/45 R16 87W) XL 70FC
summer
In Stock
£98.99
Toyo Proxes T1-R (205/55 R16 91W) 70FC
summer
Out of Stock
£70.99
Toyo Proxes T1-R (245/45 R16 94W)
summer
Out of Stock
£155.99