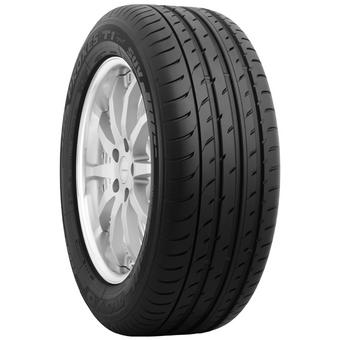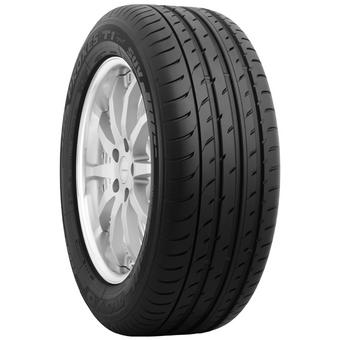 Price includes valve*, balance and environmental disposal of your old tyres - no hidden extras! *Specialist valves will incur an additional charge. Please enquire in centre.
With excellent motorway speed stability and precise handling on wet or dry roads, the Toyo Proxes T1 Sport SUV answers the need for an Ultra High Performance tyre for SUV's.
summer
The Toyo Proxes T1 Sport SUV tyre has been designed for high performance SUV's. The tread has been designed with wide outer blocks that increases the contact area that improves the handling with responsive steering and a high level of grip. The wide centre rib improves high-speed stability while the inner rib enhances rigidity and braking performance. The tread also has wide straight grooves that provides a channel for water for better aquaplaning resistance.
Other tyres in this range
Tyre Variation
Features
Availability
Price
Toyo Proxes T1 Sport SUV (255/60 R18 108Y) AO 72CC
summer

ao
Out of Stock
£142.99
Toyo Proxes T1 Sport SUV (255/60 R18 112H) XL 73EC
summer
In Stock
£127.99
Toyo Proxes T1 Sport SUV (285/45 R19 107W) 74EB
summer
Out of Stock
£203.99
Toyo Proxes T1 Sport SUV (265/45 R20 104Y) 72EB
summer
Out of Stock
£194.99
Toyo Proxes T1 Sport SUV (295/40 R20 110Y) XL 72CB
summer
Low Stock
£198.99
Toyo Proxes T1 Sport SUV (265/50 R20 111V) XL 73EB
summer
Out of Stock
£221.99
Toyo Proxes T1 Sport SUV (315/35 R20 106W) 74CB
summer
Out of Stock
£228.99
Toyo Proxes T1 Sport SUV (265/60 R18 110V) 72CC
summer
Out of Stock
£160.99
Toyo Proxes T1 Sport SUV (215/55 R18 99V) XL 72EC
summer
In Stock
£115.99
Toyo Proxes T1 Sport SUV (275/40 R20 106Y) XL 72EC
summer
Out of Stock
£186.99
Toyo Proxes T1 Sport SUV (275/40 R22 108Y) RP XL 72CB
summer
Out of Stock
£234.99
Toyo Proxes T1 Sport SUV (235/65 R17 108V) XL 71CC
summer
Out of Stock
£118.99
Toyo Proxes T1 Sport SUV (275/40 R22 108Y) XL 72CB
summer
In Stock
£239.99
Toyo Proxes T1 Sport SUV (255/50 R20 109Y) XL 73EB
summer
Out of Stock
£197.99
Toyo Proxes T1 Sport SUV (275/45 R21 110Y) XL 72CB
summer
In Stock
£191.99
Toyo Proxes T1 Sport SUV (255/55 R19 111V) XL 72EC
summer
Out of Stock
£166.99
Toyo Proxes T1 Sport SUV (285/35 R23 107Y) XL 74CB
summer
In Stock
£253.99