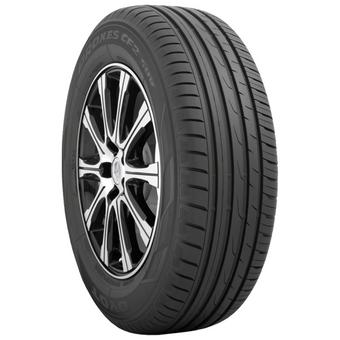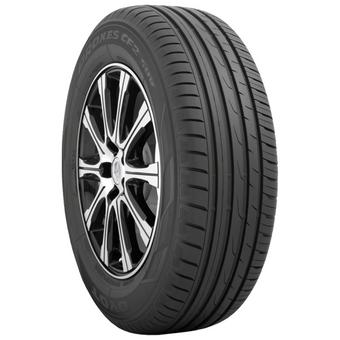 Price includes valve*, balance and environmental disposal of your old tyres - no hidden extras! *Specialist valves will incur an additional charge. Please enquire in centre.
Toyo Proxes CF2 SUV have been developed to complement the characteristics of smaller crossover and compact SUV cars.
summer
Out of Stock
With a new silica tread compound, the Toyo Proxes CF2 SUV tyre offers shorter wet braking and improved fuel economy. It's lightweight construction combined with the new compound, provides longer tyre life, making Proxes CF2 the smart choice for SUVs. The tyre tread has been designed with 4 wide grooves, improving aquaplaning resistance. The tread compound has been optimised for a better performance in wet conditions while also improving wear life and rolling resistance.
Other tyres in this range
Tyre Variation
Features
Availability
Price
Toyo Proxes CF2 SUV (215/60 R16 95H) 69CB
summer
In Stock
£88.99
Toyo Proxes CF2 SUV (215/60 R17 96H) 69CB
summer
Out of Stock
£100.99
Toyo Proxes CF2 SUV (225/65 R16 100H) 69CB
summer
Out of Stock
£118.99
Toyo Proxes CF2 SUV (215/65 R16 98H) 69CB
summer
Out of Stock
£90.99
Toyo Proxes CF2 SUV (225/65 R17 102H) 69CB
summer
In Stock
£105.99
Toyo Proxes CF2 SUV (215/70 R15 98H) 69CB
summer
Out of Stock
£100.99
Toyo Proxes CF2 SUV (225/65 R18 103H) 70CB
summer
Out of Stock
£147.99
Toyo Proxes CF2 SUV (215/70 R16 100H) 69CB
summer
Out of Stock
£97.99
Toyo Proxes CF2 SUV (225/55 R17 101V) XL 70CB
summer
Low Stock
£112.99
Toyo Proxes CF2 SUV (235/55 R17 99V) 70CB
summer
Out of Stock
£125.99
Toyo Proxes CF2 SUV (225/55 R18 98V) 70CB
summer
In Stock
£106.99
Toyo Proxes CF2 SUV (235/55 R18 100V) 70CB
summer
Out of Stock
£130.99
Toyo Proxes CF2 SUV (205/60 R16 92H) 69CB
summer
Out of Stock
£84.99
Toyo Proxes CF2 SUV (225/55 R19 99V) 70CB
summer
Out of Stock
£130.99
Toyo Proxes CF2 SUV (205/70 R15 96H) 69CB
summer
In Stock
£95.99
Toyo Proxes CF2 SUV (225/60 R17 99H) 70CB
summer
In Stock
£119.99
Toyo Proxes CF2 SUV (225/60 R18 100H) 70CB
summer
In Stock
£116.99
Toyo Proxes CF2 SUV (215/55 R17 94V) 69CB
summer
Out of Stock
£101.99