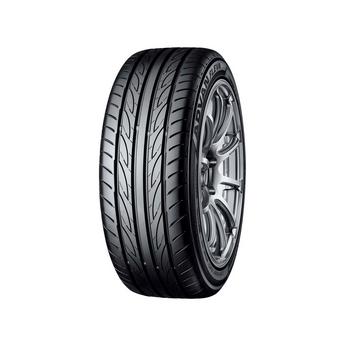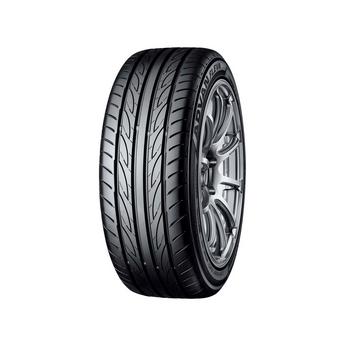 Fully fitted
Price includes valve*, balance and environmental disposal of your old tyres - no hidden extras! *Specialist valves will incur an additional charge. Please enquire in centre.
Performance hatchback & compact cars
Outstanding wet grip & handling
Providing supreme performance
The Yokohama Advan Fleva V701 has been designed for performance and sports vehicles. It's cool and attractive pattern design has more edges facing the road surface which enhances water evacuation. The claw grooves push aside water when cornering giving extreme wet grip. The lug grooves have more edge components which inceases block stiffness and enhances the direct feeling of handling.
Advan Fleva V701 Extra Information
Environmental new sport compound
Extreme wet grip
Low noise
How It Works
We've got several finance options to help you spread the cost, covering spends over £99*.
Other tyres in this range
Tyre Variation
Features
Availability
Price
Yokohama Advan Fleva V701 (185/55 R15 82V) 67CA
summer
In Stock
£71.99
Yokohama Advan Fleva V701 (205/45 R16 87W) XL 67CA
summer
Out of Stock
£79.99
Yokohama Advan Fleva V701 (215/40 R18 89W) XL 67EA
summer
In Stock
£115.99
Yokohama Advan Fleva V701 (225/40 R18 92W) XL 67CA
summer
In Stock
£93.99
Yokohama Advan Fleva V701 (235/35 R19 91W) XL 67CA
summer
Out of Stock
£129.99
Yokohama Advan Fleva V701 (195/40 R17 81W) XL 67EA
summer
Out of Stock
£98.99
Yokohama Advan Fleva V701 (205/45 R17 88W) XL 67CA
summer
In Stock
£90.99
Yokohama Advan Fleva V701 (215/45 R16 90W) XL 67CA
summer
Low Stock
£95.99
Yokohama Advan Fleva V701 (225/40 R19 93W) XL 67CA
summer
Out of Stock
£163.99
Yokohama Advan Fleva V701 (235/40 R17 90W) 67CA
summer
Out of Stock
£121.99
Yokohama Advan Fleva V701 (195/45 R16 84W) XL 67CA
summer
In Stock
£73.99
Yokohama Advan Fleva V701 (205/50 R15 86V) 67CA
summer
Out of Stock
£91.99
Yokohama Advan Fleva V701 (215/45 R17 91W) XL 67CA
summer
Out of Stock
£83.99
Yokohama Advan Fleva V701 (225/45 R17 94W) XL 67CA
summer
In Stock
£84.99
Yokohama Advan Fleva V701 (235/40 R18 95W) XL 67CA
summer
In Stock
£114.99
Yokohama Advan Fleva V701 (195/45 R17 85W) XL 67CA
summer
Out of Stock
£95.99
Yokohama Advan Fleva V701 (245/40 R18 97W) XL 68CA
summer
Out of Stock
£58.99
Yokohama Advan Fleva V701 (205/50 R16 87V) 67CA
summer
In Stock
£85.99
Yokohama Advan Fleva V701 (215/45 R18 93W) XL 67CA
summer
Low Stock
£127.99
Yokohama Advan Fleva V701 (235/45 R17 97W) XL 67CA
summer
In Stock
£88.99
Yokohama Advan Fleva V701 (225/45 R18 95W) XL 67CA
summer
In Stock
£125.99
Yokohama Advan Fleva V701 (195/50 R15 82V) 67CA
summer
In Stock
£58.99
Yokohama Advan Fleva V701 (245/40 R19 98W) XL 69CA
summer
Out of Stock
£150.99
Yokohama Advan Fleva V701 (205/50 R17 93W) XL 67CA
summer
Out of Stock
£58.99
Yokohama Advan Fleva V701 (215/50 R17 95W) XL 67CA
summer
In Stock
£99.99
Yokohama Advan Fleva V701 (195/50 R16 84V) 67CA
summer
In Stock
£89.99
Yokohama Advan Fleva V701 (235/45 R19 95W) 67CA
summer
Out of Stock
£160.99
Yokohama Advan Fleva V701 (225/45 R19 96W) XL 67CA
summer
Out of Stock
£58.99
Yokohama Advan Fleva V701 (245/40 R20 99W) XL 69CA
summer
Out of Stock
£170.99
Yokohama Advan Fleva V701 (205/55 R15 88V) 67CA
summer
Low Stock
£87.99
Yokohama Advan Fleva V701 (215/55 R16 93W) 68CA
summer
Out of Stock
£100.99
Yokohama Advan Fleva V701 (195/55 R15 85V) 67CA
summer
In Stock
£79.99
Yokohama Advan Fleva V701 (225/50 R16 92W) 67CA
summer
Out of Stock
£58.99
Yokohama Advan Fleva V701 (245/45 R18 100W) XL 68CA
summer
Out of Stock
£58.99
Yokohama Advan Fleva V701 (235/50 R18 97V) 67CA
4x4

summer
Out of Stock
£58.99
Yokohama Advan Fleva V701 (205/55 R16 91W) 67CA
summer
In Stock
£68.99
Yokohama Advan Fleva V701 (215/55 R17 94W) 67CA
summer
Low Stock
£109.99
Yokohama Advan Fleva V701 (195/55 R16 87V) 67CA
summer
In Stock
£87.99
Yokohama Advan Fleva V701 (225/50 R17 98W) XL 67CA
summer
In Stock
£105.99
Yokohama Advan Fleva V701 (255/30 R19 91W) XL 69CA
summer
Out of Stock
£152.99
Yokohama Advan Fleva V701 (235/55 R18 100V) 67CA
4x4

summer
Out of Stock
£58.99
Yokohama Advan Fleva V701 (205/55 R17 91V) 67CA
summer
Out of Stock
£58.99
Yokohama Advan Fleva V701 (255/45 R18 99W) 69CA
summer
Out of Stock
£58.99
Yokohama Advan Fleva V701 (225/35 R18 87W) XL 67EA
summer
Out of Stock
£124.99
Yokohama Advan Fleva V701 (205/40 R17 84W) XL 67CA
summer
In Stock
£89.99
Yokohama Advan Fleva V701 (225/50 R18 99W) XL 68CA
summer
In Stock
£150.99
Yokohama Advan Fleva V701 (255/30 R20 92W) XL 69CA
summer
In Stock
£203.99
Yokohama Advan Fleva V701 (215/35 R18 84W) XL 67EA
summer
Low Stock
£125.99
Yokohama Advan Fleva V701 (205/40 R18 86W) XL 67EA
summer
Low Stock
£105.99
Yokohama Advan Fleva V701 (225/35 R19 88W) XL 67EA
summer
Out of Stock
£141.99
Yokohama Advan Fleva V701 (265/30 R19 93W) XL 69CA
summer
Low Stock
£158.99
Yokohama Advan Fleva V701 (245/35 R18 92W) XL 69CA
summer
Out of Stock
£133.99
Yokohama Advan Fleva V701 (225/55 R16 95W) 67CA
summer
Out of Stock
£58.99
Yokohama Advan Fleva V701 (255/35 R18 94W) XL 69CA
summer
In Stock
£126.99
Yokohama Advan Fleva V701 (215/40 R17 87W) XL 67EA
summer
In Stock
£102.99
Yokohama Advan Fleva V701 (265/35 R18 97W) XL 69CA
summer
In Stock
£141.99
Yokohama Advan Fleva V701 (225/55 R17 97W) 67CA
4x4

summer
Out of Stock
£58.99
Yokohama Advan Fleva V701 (225/35 R20 90W) XL 67CA
summer
Out of Stock
£155.99
Yokohama Advan Fleva V701 (255/35 R19 96W) XL 69CA
summer
Out of Stock
£150.99
Yokohama Advan Fleva V701 (245/35 R19 93W) XL 69CA
summer
Out of Stock
£160.99
Yokohama Advan Fleva V701 (255/40 R17 94W) 69CA
summer
Out of Stock
£58.99
Yokohama Advan Fleva V701 (275/30 R20 97W) XL 72CA
summer
Out of Stock
£58.99
Yokohama Advan Fleva V701 (245/40 R17 95W) XL 68CA
summer
Low Stock
£115.99
Yokohama Advan Fleva V701 (255/40 R18 99W) XL 69CA
summer
Out of Stock
£58.99
Yokohama Advan Fleva V701 (275/35 R18 99W) XL 72CA
summer
Out of Stock
£58.99
Yokohama Advan Fleva V701 (275/35 R19 100W) XL 72CA
summer
Out of Stock
£58.99
Yokohama Advan Fleva V701 (275/35 R20 102W) XL 72CA
summer
Out of Stock
£58.99
Yokohama Advan Fleva V701 (275/40 R18 103W) XL 72CA
summer
Out of Stock
£58.99
Yokohama Advan Fleva V701 (275/40 R19 105W) XL 72CA
summer
Out of Stock
£58.99
Yokohama Advan Fleva V701 (285/30 R20 99W) XL 72CA
summer
Out of Stock
£58.99