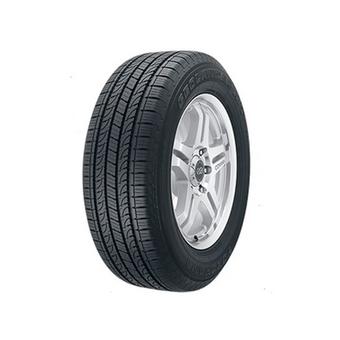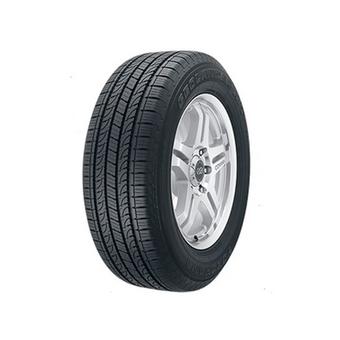 Price includes valve*, balance and environmental disposal of your old tyres - no hidden extras! *Specialist valves will incur an additional charge. Please enquire in centre.
4x4, SUV &Pick-Up fitments
Quiet, durable with great wet grip
Providing supreme performance
summer
The Geolandar H/T G056 features a new compound that contains orange oil which improves wet grip and shortens wet braking distance. It has reduced rolling resistance and lower pass by noise, important to meet European standards. Offering improved wear and comfort which is increasingly being demanded by SUV customers.
Other tyres in this range
Tyre Variation
Features
Availability
Price
Yokohama Geolandar H/T G056 (10.5/31 R15 109S)
summer
Out of Stock
£151.99
Yokohama Geolandar H/T G056 (265/70 R15 112H)
summer
Out of Stock
£135.99
Yokohama Geolandar H/T G056 (9.5/30 R15 104S)
summer
Out of Stock
£122.99
Yokohama Geolandar H/T G056 (215/70 R15 98H)
summer
Low Stock
£89.99
Yokohama Geolandar H/T G056 (265/70 R16 112H)
summer
In Stock
£116.99
Yokohama Geolandar H/T G056 XL (235/75 R15 109H)
summer
Out of Stock
£112.99
Yokohama Geolandar H/T G056 (225/70 R17 108T) XL
summer
In Stock
£138.99
Yokohama Geolandar H/T G056 (265/70 R17 115S)
summer
Out of Stock
£159.99
Yokohama Geolandar H/T G056 XL (255/60 R18 112V)
summer
In Stock
£118.99
Yokohama Geolandar H/T G056 (245/60 R20 107H)
summer
Out of Stock
£168.99
Yokohama Geolandar H/T G056 (265/75 R16 116H)
summer
Out of Stock
£165.99
Yokohama Geolandar H/T G056 XL (255/65 R17 114H)
summer
In Stock
£135.99
Yokohama Geolandar H/T G056 (245/70 R16 111H) XL
summer
Out of Stock
£118.99
Yokohama Geolandar H/T G056 (275/60 R18 113H)
summer
In Stock
£165.99
Yokohama Geolandar H/T G056 (255/70 R15 108H)
summer
Low Stock
£140.99
Yokohama Geolandar H/T G056 (275/65 R17 115H)
summer
Out of Stock
£139.99
Yokohama Geolandar H/T G056 (255/70 R15 112/110S) 71EB
summer
Out of Stock
£126.99
Yokohama Geolandar H/T G056 (275/70 R16 114H)
summer
Low Stock
£126.99
Yokohama Geolandar H/T G056 (255/70 R16 111H)
summer
Low Stock
£154.99
Yokohama Geolandar H/T G056 (285/50 R20 112V)
summer
In Stock
£232.99
Yokohama Geolandar H/T G056 (265/60 R18 110H)
summer
In Stock
£145.99
Yokohama Geolandar H/T G056 (285/60 R18 116H)
summer
In Stock
£171.99
Yokohama Geolandar H/T G056 (265/65 R17 112H)
summer
In Stock
£132.99
Yokohama Geolandar H/T G056 (285/65 R17 116H)
summer
In Stock
£171.99
Yokohama Geolandar H/T G056 (265/55 R19 109V) 71EE
summer
Low Stock
£209.99
Yokohama Geolandar H/T G056 (275/50 R21 113V) XL 71EE
summer
Low Stock
£228.99