Action Cameras Buyers Guide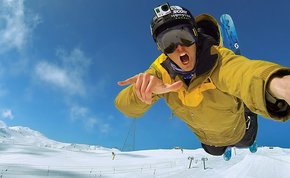 Action cameras are a great way of taking photos and video during sports, travel or even just everyday life.
Action Cameras Buyers Guide
If you want to get photos or video of sports, travel or anything else that would be a bit risky to carry a full camera for, action cameras might be for you! They're small, rugged and can capture professional quality videos and pictures.
What makes an action camera?
Action cameras are really small, so they don't get in the way of what you're doing. They're also built to withstand quite a lot of punishment! It's normal for them to come in waterproof housings which also protect them from dust, sand and a lot of bumps and scrapes. On higher end cameras, you can replace this outer case if something happens to it.
Getting the shot
A lot of action cameras don't have any kind of viewfinder, so you have to roughly aim your shots by the way the camera is facing. Because of this, wide angle lenses are normally used to capture as much of the action as possible, and make sure that you're less likely to miss anything.
Frames per second and resolution - what do they mean?
These are the two main numbers that action camera manufacturers will boast about, and they explain the quality of the video from the camera.
Frames per second
The frame rate, measured in frames per second (fps) is the number of still images used every second to make up a video. Normal TV is at 24 or 30fps, but 60fps will make motion appear smoother and less blurry.
So why do I need more?
High end action cameras go higher than 60fps, which may seem pointless. However, this can be used to create amazing slow-motion shots! 60fps video can be played at half speed at 30fps, or 120fps can even be played at a quarter speed while still staying at a high quality 30fps. This means your videos can be slowed down without looking jerky.
Resolution
The resolution is the number of pixels in each frame taken by the camera, and the amount of detail in the shots. 1080p is full HD (like an HD TV channel), but 720p is also fine for viewing, even on larger screens. Top end cameras can record resolutions as high as 4k, for amazing detail and picture quality.
Mounting
Almost all action cameras are designed to be mounted to different surfaces and objects, so you can set them recording and get on with what you're doing! The selection of mounts and accessories is huge, so get creative with your camera angles.
Wifi and Bluetooth
Higher end cameras have Wifi or Bluetooth connectivity (or both), meaning that you can use a phone or tablet as a screen. You can also control the settings with your phone or a special remote. This is a really great feature if you only have one chance at getting the right shot.
Memory
Most action cameras use Micro SD cards, and it's a good idea to get a class 10 card to make sure that that video quality doesn't suffer. The 'class' of card tells you how fast it can save video, and one that isn't fast enough will cause jerky video or missing sections.
Cards with more memory will hold more video, so it's up to you to decide how much you want to record and how much you want to spend.
Take a look at our range of action cameras, and see if you get inspired to be the next online sensation!
Shop all action cameras