Beginners Guide to Turbo Training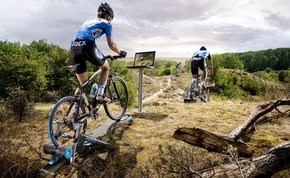 If you've bought a turbo trainer to ride indoors when the weather turns nasty but have no idea what to do with it, this guide is for you!
Beginner's Guide to Turbo Training
Turbo trainers are a great way to keep fit if you can't get outdoors or are limited for time. They really come into their own during the winter months and are a fantastic way to keep your fitness levels up when it's too cold or icy to train outdoors. Whilst they're no substitute for getting outside, they're a necessity for many cyclists.
Turbo Trainers: A Love-Hate Relationship
Becoming attached
Almost all turbo trainers come with a chunky quick release for your rear wheel. These might not look quite as good as your normal ones, but they give the trainer something to securely hold onto, so it's important to use one!
Keeping a level head
Most turbo trainers raise the rear wheel off the ground. This means that, unless you put something under the front wheel, you'll be at a downward angle riding the bike. If you find this uncomfortable, you can buy a riser block for your front wheel to level out the bike and hold it steady. Some riser blocks can even be set to different heights to simulate climbs.
Cooling off
Another thing to think about on the turbo is temperature. Since you're not moving, you won't get wind blowing over you the same as you would while cycling outdoors. It's a good idea to set up a fan (or at least open a window in the winter months) to help cool you down. And don't forget to stay hydrated!
Breaking a sweat
Even with a fan blowing on you, you're going to sweat. Use either a special sweat net that attaches to your bike or a towel to protect both your bike and the floor. Sweat is corrosive so these are an inexpensive way to protect your bike's frame.
Getting Worn Down?
Many people use a separate rear wheel for turbo training, as turbo trainers can quickly wear down tyres. A turbo-specific rear tyre can cut down on noise and should last longer, but if these are too expensive, why not just swap to a cheaper spare tyre for the turbo?
Interval Training
Unless you're cycling on a two-way smart trainer, using a turbo trainer for an extended period of time is hard work. When outside, you'll need to stop at junctions and for traffic lights, and you'll get a bit of a break whenever you speed downhill. This doesn't happen on a trainer, and the resistance doesn't let up. Because of this, you'll have to look at different ways of spicing your training sessions up.
Interval training is a series of short efforts of high intensity broken up with short rests at a lower intensity. Each high intensity 'sprint' should be no longer than 30 seconds at around 80% of your max heart rate, and each rest should be around 30 seconds at 50% of your max. Though not to be used as a complete replacement for longer sessions, interval training can be highly effective. Most people prefer this kind of training when riding indoors for a few reasons:
Time: Interval sessions can be completed in a short amount of time, making them a good way to minimise the boredom of a long turbo session or enabling you to train after work without losing your entire evening.
Inertia: While turbo trainers are a good replacement for riding on the road, they aren't perfect. The time taken for the rear wheel to stop turning is shorter than it is when you're rolling along the road, making them tiring or uncomfortable during longer rides for some. However, the shorter and more intense efforts of interval training mean you can avoid this.
Remember, it's really important to warm up before starting your session and to warm down afterwards by riding at a steady pace and working your way up or down for 10-15 minutes. Also, remember to drink plenty of water and ensure you don't overheat.
Smart Trainers
If you find the thought of training indoors less than appealing, there are a range of smart trainers on the market that are designed to take the monotony out of turbos.
There are two types of smart trainer available, each with different features:
One-Way
A one-way smart trainer communicates your power output and speed to your connected device. Using an app, you can then track and measure your progress against a route or training program and try to improve your performance. You control the resistance yourself using a handlebar-mounted lever.
Two-Way
Two-way smart trainers enable you to follow a course on your tablet or computer, and realistically simulate the course. If the course goes uphill, resistance will increase. If the road starts to curve downwards, the resistance will lessen and you'll start to go faster. Some apps even let you cycle against others in real-time, and the ride is simulated on-screen with avatars. Two of the most popular apps for interactive training are Tacx and Zwift. What's more, these apps are all compatible with Strava, so you can keep measuring your progress through the winter.
Shop Turbo Trainers