Car Batteries from Halfords: What Am I Covered For?
Halfords Car Battery Guarantee
When you buy a Halfords car battery, you'll automatically receive a guarantee that covers defects or faults that have arisen from the manufacturing of the car battery. Depending on the car battery you've bought, you'll be covered for three, four or five years, with some Halfords car batteries even coming with a lifetime guarantee (referring to the lifetime of the vehicle, and unfortunately not the customer! It's also worth noting that all Halfords car batteries are tied to a single vehicle, so if you transfer your battery to another vehicle, you won't be covered.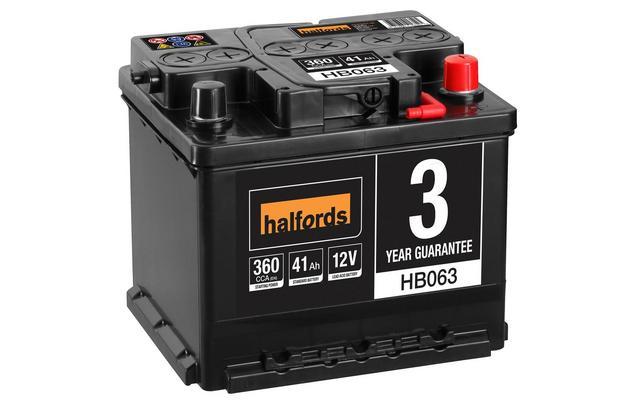 You can check your battery's guarantee by looking at the sticker on the side and referencing it against your proof of purchase - we'll need this to check if your battery is still covered under its guarantee. Feel free to also pop into a local store and ask for your battery to be checked.
What do I do if I think there is something wrong with my car battery?
In the unlikely event that you experience problems with your car battery within your guarantee timeframe, just bring it back in store with your paper receipt, or itemised bank statement and we'll carry out a full health check, including testing of the car's alternator. This will determine if there's a fault with the car battery that has arisen from a manufacturing defect.
If we find that the problem has not arisen from a manufacturing defect, or the guarantee has expired, then unfortunately we won't be able to provide a replacement.
If you return a car battery to Halfords, your statutory rights remain unaffected.
Most Common battery issues
There are a few reasons why your battery may not be performing as it should. When you bring your car in for a free Halfords battery health check, we'll tell you if it looks like any of the following issues have occurred, so you can prevent it from happening again:
Repeated battery draining or deep cycling
This happens if your car engine is switched on and off frequently, or you leave the interior lights, headlights or other electrical consumers on for extended periods between journeys. Remember to completely switch everything off before locking your vehicle.
Overcharging
Car battery overcharging results from a fault with the vehicle's charging system - get a Halfords mechanic to check this out for you at your local Halfords.
Physical damage
If you've dropped the car battery or stored it incorrectly' then damage to the casing or internal components may be preventing your battery from working properly. Always store car batteries upright and in a dry place away from heat sources or direct sunlight. Avoid removing the battery from your car altogether where possible; Halfords can fit a new battery for you, safely, from just £15.
Incorrect application
If you aren't using a car battery that has been recommended for your vehicle or have transferred the battery into a different vehicle, then damage may occur. Always use the car battery Hafords has recommended for your vehicle and do not use your car battery to charge or run other appliances.
If you're just concerned that your car battery isn't performing properly or would like further car care advice, just pop into your local Halfords or Halfords Autocentre and we'll be able to offer a free battery check. You can also check out miore of our motoring help and advice guides here.