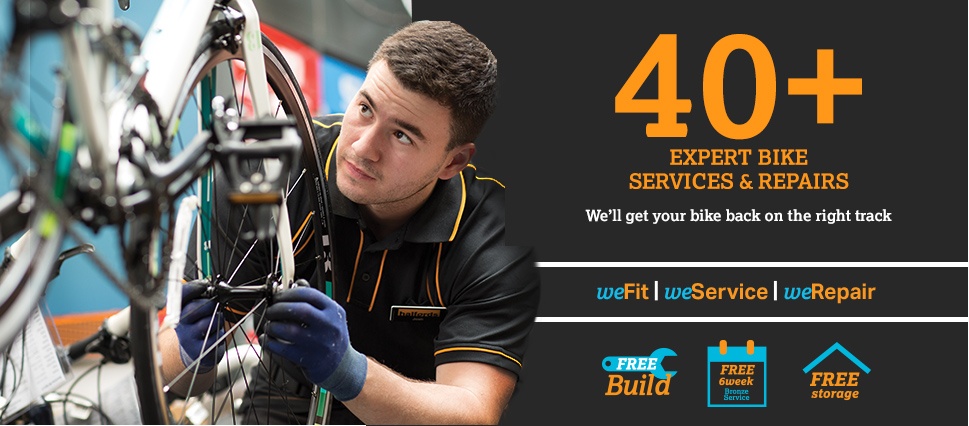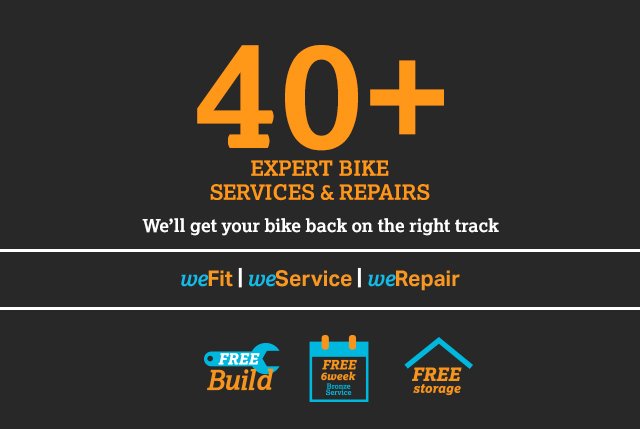 *Bike Build Services do not include products sold by our Marketplace Partners.
We
Fit
"I recommend getting halfords to assemble any bikes for you, as they are ready to use on collection, set up perfectly, safety checked and a real pleasure to ride!?" 5/5
We
Service
Keeping your bike in top condition is important, helping you to avoid costly repairs further down the line. When you buy a bike from us and have it built, we offer a FREE bronze six week bike service. To continue getting the most out of your ride, we also offer an annual service from £50.
We
Repair
If your bike's suffered a mishap or one of its components has become worn, we offer a range of repair services to get you back on the road. You can also invest in one of our Bike Care Plans which includes an annual Silver Service.
If you can't find what you're after, we're more than happy to help by ordering in the part or brand you want within 48 hours. Once it's arrived, our Bike Hut team can also fit it for you.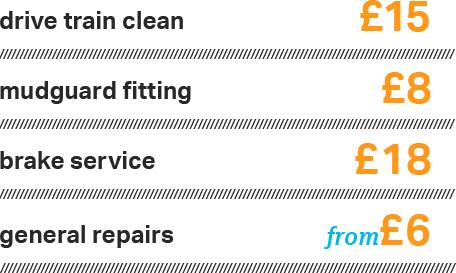 If you've had a mishap out on the road, or time has resulted in general wear and tear, Halfords are here to help you out.
Just visit your local store and we'll assess the damage - we may be able to repair it on the day, though in some case we'll need to keep your bike a little longer.

When you order a bike from us, our fully trained bike mechanics can build it for you for free! Simply click and collect your bike and our Bike Hut team will build it and carry out a 22 point safety check, ensuring it's safe and ready for you to ride away.

Please Note: collection time will increase by 24 hours if you do want us to build your bike for you. Full details of collection times can be found here.

Once we've built your bike, we'll store it for you for free until you're ready to pick it up.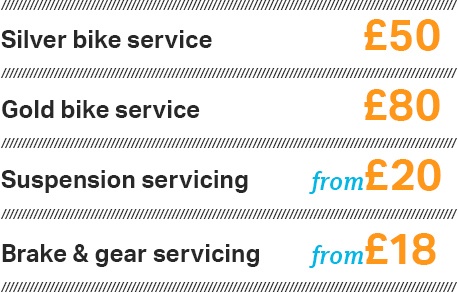 After you've had your bike for a while, you'll want to make sure that everything's running smoothly and is working as it should. After six weeks, our expert bike mechanics will perform a Bronze service, which includes a thorough seven point safety check and brake and gear adjustment to ensure that your bike's still in great condition.
Parts servicing
If you'd just like your suspension or your brakes looked at, we can also carry out parts servicing. For more info and pricing take a look at our full bike repairs list.
Gold Bike Service
In addition to the checks covered in the Silver Service, the Gold Service includes a deep clean of your bike's components, air suspension set up, and any replacement parts will be fitted for free.
Silver Bike Service
Our Silver Bike Service includes a detailed seven point safety check, brake and gear servicing (with free inner cables), as well as wheel truing.

For an up-to-date list of our
We

Fit

We

Repair

and

We

Service

prices click here

We'll do the hard work for you with a Bike Care Plan. After a one-off payment, you'll enjoy free parts and accessories fitting alongside an annual Silver Service for the duration of your plan. Our plans are available for either one or three years, so there are plenty of options to suit you.

Our plans cover: Kids' bikes, adult bikes, families, BMX bikes and bikes purchased from other retailers (subject to inspection).

You don't need to book in for any of these fitting services, simply turn up! With most stores open from 9am to 8pm throughout the week (and open at weekends too), you'll be able to choose the time that suits you best.
find a store