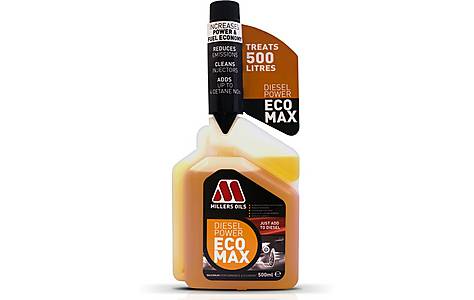 Description

Millers Diesel Power Ecomax 500ml Product description

The Millers Diesel Power Ecomax 500ml is a cetane booster & detergent package adding up to 4 cetane numbers to diesel fuel. It provides protection of fuel system components against wear, with specially added lubricity enhancers and is suitable for diesel engines and helps to reduce emissions.

features & benefits of Millers Diesel Power Ecomax 500ml

500ml bottle treats 10 tanks
Increase power & fuel efficiency
Reduces emissions
Cleans injectors
Increase diesel cetane by up to 4 numbers
Suitable for use in all diesel engines

Additional Information

The Federation of British Historic Vehicle Clubs (The FBHVC) is pleased to announce the results of its fuel stability additive test programme. This research was designed to test the anti corrosive properties of proprietary additives claiming to provide a high level of protection against potential corrosion of fuel systems, including tanks, pipework and fuel metering equipment on historic vehicles caused by the addition of ethanol into petrol.

Millers Oils VSPe Power Plus, VSPe & EPS all received and 'A' rating in the research which enables all these products carry an endorsement from the FBHVC.
Overview

| | |
| --- | --- |
| Type: | Diesel Treatment & Additives |
Millers Diesel Power Ecomax 500ml
Cat code: 811125
Other customers who bought this also viewed
Reviews

Millers Diesel Power Ecomax 500ml

24

26

used to sort low rev miss fire

only started using this last week after my beloved astra started having an intermittent miss fire at low revs, after much faffing around with egr valves and sensors this was the last resort, anyway ive had this in on a full tank from reserve and its made a difference already, car is much smoother, and seems to be a lot quicker off the mark looking forward to more improvements on next fill up lol

22 July 2012

Lived up to expectations.

I bought this product for my 04 reg Renault Megane II which has been running rather rough for some time and which was stalling frequently in first gear. I suspected that carbon in the the EGR and injectors was the problem and rather than trying to clean out the EGR by hand (a messy & tricky process) I decided to give Millers a go first. As far as I know this is the first time my car has had a fuel treatment & following an initial double dose I soon noticed a definite smoothing of the engine & less trouble in first gear. I have high hopes that the engine will continue to benifit over time & would reccomend to anyone who is running an older diesel car.

15 June 2012

Very Good Product

I have been using this product for the last 2 years now, after millers being reconmended by the bmwland forum members. Very good product, I notice after a few miles that the engine noise is less and there is deffinitely less smoke under hard acceleration so I am pleased with the results

08 June 2012

Great results.

This has made a difference in first use, i usually get around 490 on a full tank but this time i pushed it till 510. Very good product and reasonable price for the quality.

29 May 2012

Good purchase

I tried this as a changer from Redex and the difference is astounding. The engine has more power, seems to have much better bottom end torque and gives more m.p.g. Whether the increase in m.p.g. is enough to offset the cost of the product remains to be seen. But on a purely performance basis it is excellent.

23 May 2012

Great Stuff!!

I have been using this in my Mercedes E350CDi Estate for the last year and I can't fault it. Fuel consumption has improved and the car has better acceleration. It seems to work for any car and is a lot cheaper than using the premium diesel fuels (gives at least the same level of performance for a fraction of the price). The twin pack at Halfords is better value if you can find it. In summary, I cannot recommend this product highly enough. One word of warning though. Don't believe what it says on the bottle or in the blurb about a pleasant citrus fragrance. This stuff absolutely stinks so always use thick rubber gloves and avoid keeping it in the car unless you are going to be away from home for a while and will be refuelling before you get back. I keep mine in a stink-proof resealable bag which stops it ponging the garage out.

03 May 2012

very good

i have used this product on a 300tdi discovery and what a difference less smoke quieter idle more mpg will be using again on my range rover

22 April 2012

Saved me £800 repair bill!

Every Diesel driver should be using this stuff. It should be law... its THAT amazing! My Vauxhall Zafira 1.9sri started chugging out HUGE amounts of black smoke about 7 months ago. People flashing me, pedestrians shaking their fists as I drove by, all sorts. Engine management light came on so I took the car to the garage under my warranty and they replaced the EGR unit. (they had it for 2 weeks though). Sorted. But then about 3 weeks ago the same problem appeared and a different garage said EGR unit or Air intake manifold needed changing (code 2279). I even took the car to a Vauxhall repair centre and they said the engine needed replacing. Under suggestion from a friend I tried this Diesel cleaner stuff and 150 miles later... et VOILA! Engine management light gone and no black smoke at all PLUS i get 1.5 mpg's more (37.5mpg) and car feels a lot smoother. If I HAD to pick a bad point about this stuff I would say it smells, but, I mean, Come on! So does diesel. Additionally, I don't think its called Power Sports 4 anymore as Halfords only stocked "Millers Diesel Power Eco Max" which is what it says on the bottle. (even in the picture).

26 February 2012

Other Buying Options

You can buy this product from one of our carefully selected Approved Partners. The full list of options available are below. Simply add your chosen option to your basket and proceed to checkout when you're ready.

You can purchase products supplied by Halfords and selected other suppliers on halfords.com.

Checkout is always via halfords.com and all payment will be taken via halfords.com. In checkout the products will be split into separate deliveries for each supplier.

Showing 1 -

X

of our buying options

| Price | Seller Info | Purchase |
| --- | --- | --- |