General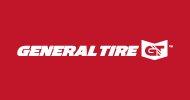 General has been making tyres in the US since 1915 and has a proven ability to compete in the ever changing industry with manufacturing and technological advancements.
Find what's right for your vehicle
Enter your registration number and we'll only show you appropriate products.
Find tyres by Vehicle Registration Number
Sorry your vehicle has not been found, please enter a valid registration number.
Service is not available right now. Please try again later.