Are your tyres showing signs of abnormal wearing? We'll show you what to look out for and how to solve the problem.
Learn how to see if your tyres are wearing irregularly and understand the underlying problems this might signal.
Tyres wear over time - it's normal to have to replace them at some point. However, it's important to look out for signs of abnormal tyre wear, too, as it could be a sign of a more serious problem.Leaving these potential issues unchecked could cause a risk to your safety on the roads.
But not to worry, we're here to help you spot any problems as early as possible, keeping your car safe to drive, as well as saving you from having to pay out for a new set of tyres.
What causes abnormal tyre wear?
There are different kinds of abnormal tyre wear, each caused by a variety of issues. These can stem from problems such as suspension or alignment troubles, an internal tyre fault, or the result of driving on underinflated or overinflated tyres.
How to check for abnormal tyre wear
It's a good idea to inspectyour tyres once a month - this goes for both pressure and tread depth. You should also check your tyres before you set off on long journeys.
We offer a free tyre check at Halfords Autocentres. It only takes around an hour, and we'll make sure your pressure and tread depth are as they should be, while also looking for any signs of damage or underlying problems. If you're not sure where your nearest Autocentre is, use our tool to check here.
The different kinds of abnormal tyre wear
Top tip: When performing checks at home, turn the steering wheel so you can get a better view of your front tyres.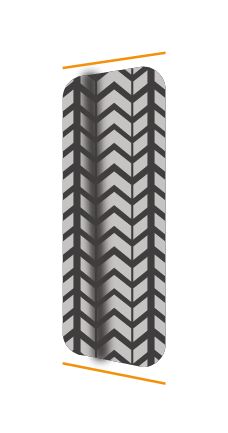 Camber wear
How to spot itc
The inside edge, outside edge, or shoulder will show considerably more wear than the rest of the tyre.
Source of issue
Camber wear can be caused by: suspension misalignment, a bent strut, a dislocated strut tower, a weak or broken spring, a bent spindle, or collapsed or damaged control arm bushings.
How to fix it
Bring your car in to your local Autocentre and we'll determine the cause of the problem by checking the suspension and its alignment.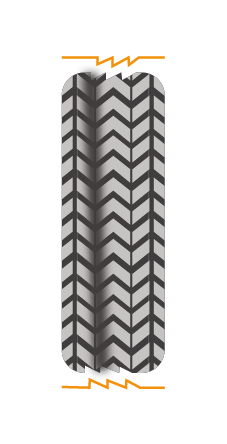 Feathered directional wear pattern
How to spot it
The tread will feel smooth when rubbing your hand across it one way, but rough when rubbed the other way.
Source of issue
Feathered directional wear patterns can be caused by: toe misalignment, worn tie rod ends, worn idler arms, bent steering linkage or bent steering arms.
How to fix it
Consider bringing your car to your local Autocentre so we can determine the root cause of the problem.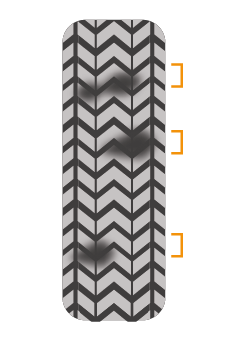 Cupped wear pattern
How to spot it
Cups or dips will appear around the edge of the tread.
Source of issue
One of your tyres could be out of balance with the others, or either your struts or shock absorbers could have weakened.
How to fix it
The first thing to do here is to have the wheel balanced at your local Autocentre , though if your shock absorbers or struts have weakened, too, these may need to be replaced.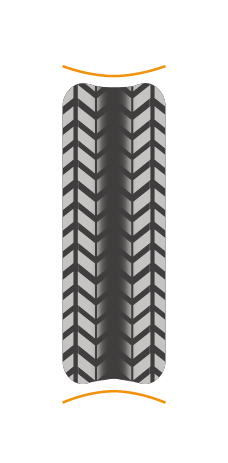 Centre of the tread more worn than the shoulders
How to spot it
The centre of your tyres will have worn at a greater rate than the edges.
Source of issue
You may have overinflated one or more of your tyres, causing them to bulge in the middle.
How to fix it
You should check your tyre pressure against the manufacturer's guidelines. The information can be found in your car?s manual.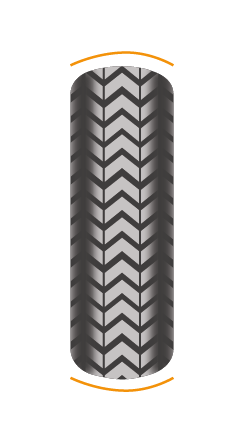 Shoulders more worn than the centre
How to spot it
The alternate situation to the above, the edges of your tyres will have worn more than the centre.
Source of issue
You may have underinflated your tyres, which has caused a dip in the centre.
How to fix it
You should look up the recommended tyre pressure, stated in your car's manual.
Checking your tyres regularly can really give you peace of mind - there's a greater chance of avoiding an unexpected incident if you manage to catch any abnormal wearing before it becomes serious.
If you need any professional advice when it comes to spotting the early stages of tyre wear, we're always here to help. Our tyre check service is completely free and is available at all local Autocentres.
Same day tyre fitting
Did you know that we now offer same day tyre fitting service across our garages nationwide? Simply book online before 1pm and we can replace your tyres the same day to help you get you back on the road safely and swiftly. Please note that availability varies by location. For more information, please head on over to our dedicated same day tyre fitting page where you can find answers to frequently asked questions, choose the right tyres for your vehicle and book your appointment.
Book same day tyre fitting
Introducing the Halfords Motoring Club
Don't miss out! Join the Halfords Motoring Club today to access a range of amazing benefits and discounts that are designed to keep you moving, keep you safe and keep you saving.
It's free to join and you'll receive money off your MOT, a free car health check and a welcome voucher that can be spent on any Halfords product or service.
Or choose our Premium membership for a small monthly fee (or a one-off payment) to unlock exclusive member pricing on all motoring products and services online and across our stores, garages and Halfords Mobile Experts, as well as a variety of other benefits that will help you to keep moving for less.
With so much to enjoy, this is too good an opportunity to miss!
Join the Halfords Motoring Club today at www.halfords.com/motoring-club.
Join the Halfords Motoring Club