Car Brakes & Brake Parts
Find what's right for your vehicle
Enter your registration number and we'll only show you appropriate products.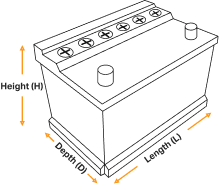 Check which battery is right for my car
Brake Friction
Brake Hydraulics
Car Brakes Problems
It can often be difficult to identify any problems with your brakes, however, there are a few indicative signs that there's an issue within your braking system, including:
Squeaky brakes.
High handbrake.
Soft brake pedal.
Sponginess.
Grinding.
Pulsating.
Car pulling to one side when braking.
Brake warning light on your dashboard.
For more in-depth explanations of these warning signs, you can read our dedicated blog on how to tell if you need a brake replacement.
If you do notice any of the signs above affecting your car, then don't worry - we offer brake repairs near you at Halfords Autocentres locations up and down the UK, with experienced technicians who can identify and fix the issue to get you safely back on the road.
Free Brake Check
Whether you're embarking on a long journey, or you're just concerned about the condition of your brakes, in our free car brake check we'll inspect your entire braking system to ensure it's in full working order to keep you and your family as safe as possible on the road. Our free 6-point brake check will give you peace of mind that your brakes are fully operational. Our friendly ATA-trained technicians will check your braking system to identify any issues and advise on any recommended repairs or replacements.
If a repair or replacement is needed, we will provide you with a no-obligation quote for the work and you can rest assured that we only use the highest quality replacement parts which are guaranteed for 12 months or 12,000 miles - whichever comes first. If you know the type of brakes repair you need, you can even use our online tool where we offer you the best quote available for your vehicle at your chosen autocentre.
We also offer a brake fluid change at all of our Autocentres across the UK, which also forms part of our major car service. Most car manufacturers recommend that you change your brake fluid every 24 months or 24,000 miles, whichever arrives first. During a brake fluid change, one of our qualified technicians will drain the old fluid from your braking system and refill it with new brake fluid in line with your car manufacturer's guidelines. They will then dispose of the old fluid in an environmentally friendly way.
Car Brake Parts
At Halfords, we have a great range of brake parts for any replacements you need, including brake pads and brake discs, as well as brake fitting kits. Choose between all of the different types of brake parts to see which items are available for your car.