Find what's right for your vehicle
Enter your registration number and we'll only show you appropriate products.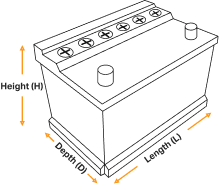 Check which battery is right for my car
What are calipers?
Brake calipers work in your disc braking system by squeezing your brake pads against the brake disc, causing the friction that makes your car stop. The caliper is the arm that squeezes the brake pads onto the rim of the wheel, in much the same way as a bike braking system. Because we rely on calipers for our safety when driving, it's important to get these fixed quickly if they need replacing.
Car brake calipers
It's important to keep your car brake calipers in good working condition, so you're able to stop your vehicle safely when you need to in the event of an emergency.
You might notice that you have a seized brake caliper and your pads are stuck, making the vehicle pull to one side. If you're not sure whether your car brake caliper needs a replacement, you can get a free brake check from Halfords to make sure.
Once you've fixed your front or rear brake caliper, you can even make your car stand out with brake caliper paint in different colours, including paint pots as well as spray paint.
Order calipers from Halfords
If you need advice on the right calipers for your car then just visit your local Halfords garage and one of our team will be more than happy to help you choose the right car brake calipers for your vehicle. Or you can order online today and have them delivered to your door. You can also take advantage of our free click and collect service.