Find what's right for your vehicle
Enter your registration number and we'll only show you appropriate products.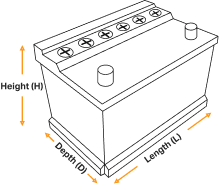 Check which battery is right for my car
Brake Calipers
Brake calipers are an essential part of your car's braking system. They can become worn and damaged over time, so it's crucial to get them replaced. Simply enter your vehicle registration number and we'll show you the correct brake calipers for your car, alongside other brake parts designed for your car's make and model.
Buy front and rear car calipers online
Brake calipers contribute to the overall safety of your vehicle. They work alongside the brake pads and brake discs to create the friction needed to bring your car to a halt. If they're worn or defective, it could lead to a faulty braking system. This can affect your vehicle's ability to stop safely, which is incredibly dangerous, especially at high speeds.
Buy online and have your parts delivered for free if you spend over £20, or use our free Click and Collect service and we'll ship the parts to your local Halfords store.
Halfords car brakes services
Simply enter your registration number and browse our huge range of car brake parts designed for your vehicle. We also offer brake services to maximise the safety of your vehicle.
What are brake calipers?
A car brake caliper is a component in a vehicle's braking system containing brake pads and pistons. When you press on the brake pedal, the brake caliper clamps down on the brake disc with the pads, which creates friction. This high level of resistance squeezes the brake pads on the wheels to bring your vehicle to a safe halt.
Most vehicles have floating calipers, which move alongside the wheels, while others have fixed brake calipers fitted in place with a bracket. Some vehicles also use sliding brake calipers, which work similarly to floating calipers. Regardless of the type, it's a quick and easy fix to get them replaced. However, make sure you seek professional help at your local Halfords garage so you know they're fitted correctly with the required part.
How do you know when brake calipers need replacing?
Like any car part, brake calipers can become worn over time due to excessive use. They can also be damaged from direct impact, such as a collision. If your brake calipers need replacing, you may notice frequent vibrations or a rattling sound when you press the brake pedal—this is because the calipers aren't creating the necessary friction to safely halt your vehicle. Other signs to look out for include:
Your car pulls to one side.
The brake warning light is illuminated on the dashboard.
Smoke is coming from your wheels near the brake pads, or there's a prominent burning smell.
Brake fluid is leaking from nearby your wheels.
Since we rely on calipers for safety while driving, it's important to get them fixed quickly. If you're unsure, head to your local Halfords garage for a free brake check.
How much does it cost to replace brake calipers?
Brake caliper costs vary depending on the make and model of your vehicle, plus the product type and quality. Low-quality brake calipers may be cheaper, but they'll likely wear down more quickly, creating more costs further down the line. A high-quality brake caliper can last anywhere between 7-10 years, so it's worthwhile investing in the right part.
At Halfords, we stock a huge range of brake calipers for many vehicles. For a personalised quote, visit your nearest Halfords garage and one of our technicians will be more than happy to check over your vehicle and fit a new brake caliper.
---
FAQs
Brake calipers usually need to be replaced every 100,000 miles, or 7-10 years. If you think they need replacing sooner, be sure to get them checked. Even if your brake calipers aren't showing signs of wear and tear, it's still important to have them assessed regularly. Get a quote online to have your brake calipers fitted at one of our garages.
No, even if just one is damaged or excessively worn, you should still replace both calipers. Otherwise, it may cause an imbalance between the front wheels and tyres.
Yes, a brake check is included as part of any MOT service. Halfords will check your brake calipers, pads, fluid, and discs to identify any faults. If you notice any issues before your MOT is due, head to your local Halfords garage for a Free brake check.
Driving with a broken brake caliper is extremely dangerous. If the brake caliper is faulty or not working correctly, it can affect the performance of your braking system, which can compromise the safety of you and others. In addition, continuing to drive with a broken brake caliper can cause further damage to your brake pads and other key components.
Halfords stocks a huge range of brake calipers designed for all major car makes and models, including Vauxhall, BMW, VW, Audi, Citroen, and Alfa Romeo.
Use our registration search tool to find the correct brake calipers for your vehicle. You can also visit a local Halfords garage for advice. One of our technicians will be more than happy to assist you with finding the right part for your car.
At Halfords, we've been supplying DIY mechanics with everything they need to fix their cars for over 100 years. However, unless you have automotive experience, you should have your brake calipers fitted professionally at a garage. Otherwise, you could jeopardize the safety and performance of your vehicle.