The Beginner's Guide to Camping
---
Life whilst camping is a life on the go, returning to the great outdoors, seeing the sights the world around us has to show.
Small details leave lasting impressions: the sound of the sea from our saddles, the friendships we rekindle by the fire, the unforgettable places we stumble across that we never imagined we'd find.
To help holidaymakers head in the right direction, we've made our Camping Guide to meet distinct interests and personalities, so that everyone's equipped and ready for their very own adventure to begin.
01 Beachgoers
Fancy escaping to the seaside this year? We've found four of the UK's best beach campsites to soak up the sun, sea and sand with all the family.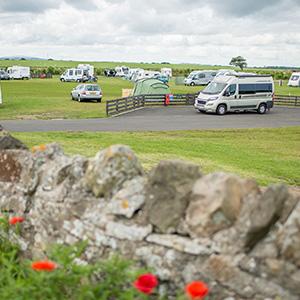 Beadnell Bay Camping and Caravanning Club Site
Surrounded by rolling dunes and a rich birdlife, Beadnell Bay offers relaxation in Northumberland's glorious coast and brilliant access to iconic places from the nation's past. There's a whole catalogue of castles to check out - from Alnwick Castle to Bamburgh Castle - whilst Holy Island and Lindesfarne Castle are a forty minutes' drive away.
Visit website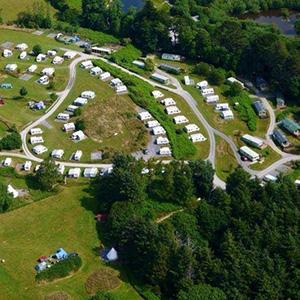 Eisteddfa Caravan & Camping Park, Criccieth
Spread over eleven stunning acres with a backdrop of soaring mountain tops on the horizon, overlooking Cardigan Bay, Eisteddfa Caravan and Camping Park is perfect for holidaymakers visiting the shores of Snowdonia. The site offers experiences to suit every member of the family – from pony rides to boating, hiking the region's magnificent hills or just relaxing by the sea.
Visit website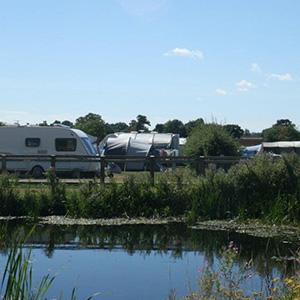 Haw Wood Farm, Suffolk
Surrounded by woodland and flowering meadows, Haw Wood Farm enjoys superb access to local beaches in a region rich with history. Dunwich is not to be missed – Britain's Atlantis, the submerged former capital of East Anglia. Some say you can hear its ancient church bells ringing from the bottom of the sea!
Visit website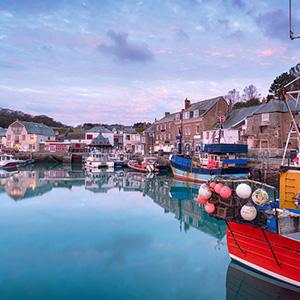 Padstow Touring Park, Padstow
Padstow Touring Park is an idyllic campsite on the Cornish coast, near to the glorious resorts of Newquay and the peaceful town of Padstow. The region balances sublime scenic trails, such as cycle routes along the Camel Trail on the Camel Estuary, with delightful days out. Visit Port Isaac, the home of TV's beloved Doc Martin!
Visit website
Camp pitched and time for tea? We spoke with Karen from Mini Travellers who dished up her top four chippies!
Firstly, I'm always swayed by a celebrity champion. When the Hairy Bikers claimed Pinnacles of Seahouses to have the best fish and chips in the country, I was always going to be persuaded. The delightful food was matched by the restaurant's idyllic surroundings; it's a two minutes' walk from the charming Northumberland coast.
Moving from the north to Suffolk, in Beach Café on Southwold Pier we dined in a booth overlooking magnificent golden sands. It was great to hear that Beach Café's chefs prepare gluten-free meals on the first Saturday of each month!
One of the Mini Travellers' favourites is Castle Fish & Chips in Criccieth. We bought three fish and chips, three kids' meals and a chip butty for £25, with change! Everything about it was incredibly yummy, with stunning views of Cardigan Bay.
Lastly, no fish and chips round-up would be complete without a nod to Rick Stein's restaurant. All I've heard are rave reviews!
Top five things to do at the beach
Build sand-castles
Snack on ice cream
Explore the rock pools
Fly a kite
Skim pebbles
02 Sightseers
Discover some of the UK's finest sites, rich history and cultural delights only a stone's throw away from these glorious campsites. Pack the car and go!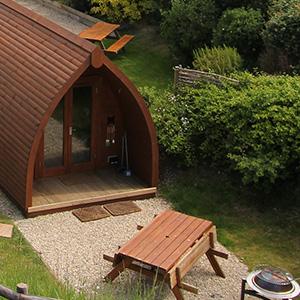 Stonehenge Campsite
Whilst it's a hotspot for seeing Stonehenge's mysterious standing stones, Stonehenge Campsite is superbly located for exploring the wider heritage of the South Wiltshire area. Day trips to Salisbury come highly recommended, with its splendid cathedral especially of note. For more ancient history, head to the Old Sarum to roam the ruins of one of England's oldest settlements.
Visit website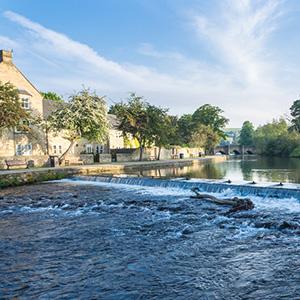 Greenhills Holiday Park, Bakewell
Situated in the Wye Valley with splendid views of the Derbyshire countryside, Greenhills is in an ideal location for exploring the wider Peak District area. There's an extensive range of routes and trails to take between the region's delightful towns. Bakewell, Castleton and Edale are all nationally acclaimed!
Visit website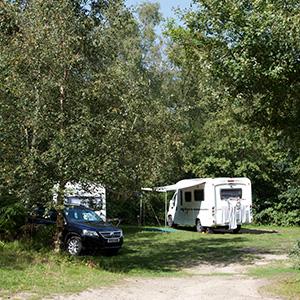 Graffham Camping & Caravanning Club
A tranquil campsite with delightful natural fauna, Graffham Camping and Caravanning Club is ideally positioned for visiting the South Downs' historic attractions and towns, from Arundel Castle to Tudor Cowdray House in nearby Midhurst. When not exploring the region's landmarks, head over to Bognor Regis for some well-earnt relaxation on the beach.
Visit website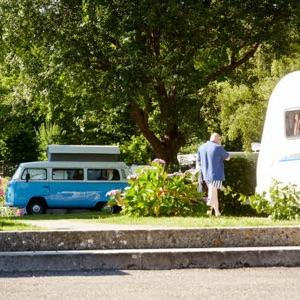 Battle Normanhurst Court Caravan Club Site
Whilst Battle Normanhurst Court Caravan Club Site is perfect for visiting Battle Abbey and the Hastings battlefield, it's also ideal for exploring the wider East Sussex area. Brighton is just one hour's drive away by car, and few cities make for a better day out; the fantastic Royal Pavilion is a must-see.
Visit website
Local attractions
Stonehenge
A world-famous heritage site, Stonehenge's origins are a mystery: today, archaeologists believe it was a burial ground, whilst legend dictates it was built by Merlin! Explore surrounding Wiltshire, with the ancient city of Salisbury and beautiful Kennet-Avon canal nearby.
Chatsworth House
Combining stunning garden views with five hundred years of history, Chatsworth House is one of the country's finest stately homes. Roam the valleys of the Peak District, or stop by historic towns like Bakewell for one of their famous sweet treats.
Arundel Castle
Here is a breath-taking glimpse into English history, looking out onto the River Arun with picturesque gardens inside the castle grounds. Check out the surrounding countryside of the South Downs, alongside landmarks such as Cowdray Castle and Petworth House.
Battle Abbey
Built by William the Conqueror on the site of the legendary Battle of Hastings, the battlefield is now abundant with wildflowers, whilst the neighbouring countryside is rich with historic towns.
03 Cycling Lovers
Has your family got the cycling bug? Explore some of the UK's most scenic routes and national parks from these delightful campsites – time to saddle up!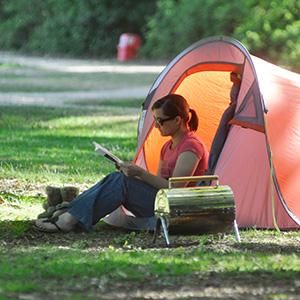 Ashurst Campsite, New Forest
Located by the charming villages of Ashurst and Lyndhurst, Ashurst Campsite is the perfect place to start your ride across the New Forest. With a range of pitches available and a rich natural wildlife, soak up the forest's aura whilst you rest.
Visit website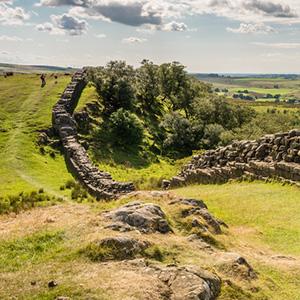 Herding Hill Farm, Northumberland National Park
Herding Hill Farm is a delightful campsite that caters perfectly for family cycling holidays, located within a mile of Hadrian's Wall and the superb Hadrian's Cycleway. For the children, there's a large play area (complete with Roman fort!) and a petting zoo!
Visit website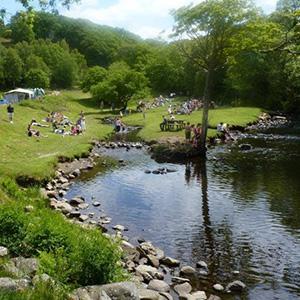 Nantcol Waterfalls, Llanbedr
Few campsites are more exhilarating than Nantcol Waterfalls, situated two miles from the sandy shores of Shell Island at the foot of the vibrant Rhinog mountain range. It's an ideal basecamp for any group of go-ahead cyclists looking to take in Snowdonia.
Visit website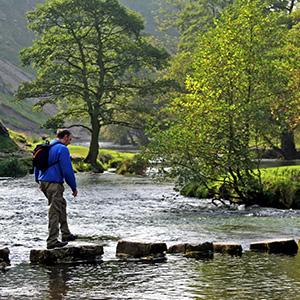 Ashbourne Heights, Peak District
Sitting on the edge of the Peak District, Ashbourne Heights is perfectly placed for pedaling in the Peaks. There's an array of nearby routes for families to explore, such as the Tissington Trail, and amazing days out, with attractions ranging from museums to gorgeous stately homes.
Visit website
How to prepare your bike for a cycling holiday
In more isolated areas, you'll need to be equipped to repair basic bike faults. Spare bike parts, like inner tubes, wheel spokes and batteries are essential, alongside bike maintenance tools like a pump, chain tool and puncture kit, and health items like sun-screen and a first aid kit. Always ensure you're carrying enough water for everyone; and some chocolate for your kids' morale!
With packing, try to evenly distribute weight across the frame of your bike to keep your balance. Backpacks are fine for short bursts of riding, but aren't ideal for longer lengths of time due to the pressure on your neck and spine. Instead, a pannier rack can really help to lighten the load, especially if you're fully loaded up with supplies for a day out.
Our bikes rank among our most important possessions; we tend to worry about their security when they're left on their own or whilst we're asleep. However, keeping our bikes safely unattended is incredibly straightforward. Invest in a durable bike lock that you can use to chain your bike to a large and immovable objective. Though a lamp post may be hard to find in a national park, trees luckily make for an excellent substitute!
04 Outdoor Adventurers
Ready for an action-packed adventure? From kayaking to quad-biking there's something for even the most adventurous family to get stuck into!
Looking to hike your camping up a level? We spoke to Kirstie from the Family Adventure Project, who're experts in making the most of the great outdoors:
Dreamily waking beside a highland loch is idyllic, but the chances are you might be pretty far from the nearest shop! Stock up on essentials before your trip begins, from bug spray to marshmallows.
Simultaneously, when packing, less is always more. Only purchase kit that's light - climbing rucksacks are preferable to regular walkers' gear, as they're more durable and weigh less. Stoves are available that weigh less than 180g and gas canisters around 250g. And at the end of the day, the same applies to sleeping bags, literally!
That said, there's nothing worse than feeling like you're losing a war with the elements. Bring sufficient spare clothing; you can save on space by wearing the heavier layers as you walk.
Happy hiking!
05 Caravanners
Looking for somewhere a little more comfortable to lay your head? Try these delightful caravan parks with sublime views and beautiful locations.
Top tips for first time caravanners
Towing a caravan for the first time can be a daunting and stressful time, driving a load that's much greater than the one you're used to. To reduce nerves, it's worth taking everything a little slower. First time round, why not holiday a little closer to home and allow yourself more time to unhitch and set-up your caravan once you arrive?
Don't punish yourself for fretting over difficult manoeuvres, such as reversing. Even the most experienced caravanners were beginners once. If you know other caravanners, ask them for tips!
When preoccupied over preparing your caravan, it's easy to forget about the essentials your awning requires. Be sure that you're equipped with the following: awning, pegs, hooks, mallet, groundsheet.
Camping Checklist
First camping trip away or seasoned pro? There's always something that gets left behind. Here are the camping essentials and a few things you didn't know you needed.
Coolbox
Tent
Chairs
Camping stove and gas
First aid
Picnic
Solar power bank
Sleeping bag
Mats
Games
Torch
Don't forget… Washing up liquid, matches, mallet, towel, insect repellent, toilet roll, suncream and a book!
Camping recipe
Searching for the perfect campsite dish, we spoke to Lucy of Supergolden Bakes, who provided us with her recipe for a true family favourite!
Cheesy Sausage Pasta
Serves: 4
Ingredients
2 tbsp olive oil
1 onion
1 can chopped tomatoes
1 can roasted peppers finely diced
Pot of boiling water
6 pork sausages
300g pasta
3 tbsp grated cheese
Salt and pepper
Finely chop the onion.
Heat the olive oil in pan and fry sausages until nicely browned on all sides. Once cooked, set aside and chop into smaller bites.
Add chopped veg to pan, frying for five minutes whilst stirring.
Add chopped tomatoes and roasted peppers.
Return the chopped sausages to pan, stir and bring to simmer. Leave for twenty minutes until sauce reduced. If needed, add splash of water.
Cook pasta in pot of boiling water.
Taste sauce and season.
Once pasta cooked, drain and mix into the sauce. Stir and add flavour with grated cheese.

Bon appétit!
Wild Camping
Wild camping is enjoying a steady rise in popularity, pitching tents outside of the hustle and bustle of modern life, swapping campsites for enthralling environments such as the Dartmoor National Park. However, wild campers must ensure that they camp responsibly. The 'Leave No Trace' campaign states the responsibilities of wild campers are:
to plan ahead and research well
camp only on hard-wearing, durable surfaces
dispose of waste responsibly and completely
leave what you find
minimise the damage caused by campfires and
be considerate of other campers
You need to respect the lives of the animals you're camping by. Treat them like you'd treat your neighbours: leave everything as you found it, from nests to gates; keep the music down in the early hours; and at morning and night give animals space at watering points, just as you wouldn't loiter in your neighbour's kitchen.
Introducing the Halfords Motoring Club
At Halfords, we're here to provide you with the best value for all your motoring needs, from staycation travel essentials to car health checks. Join the Halfords Motoring Club today to access a range of amazing benefits and discounts that are designed to keep you moving, keep you safe and keep you saving.
It's free to join and you'll receive money off your MOT, a free car health check and a welcome voucher that can be spent on any Halfords product or service.
Or choose our Premium membership for a small monthly fee (or a one-off payment) to unlock exclusive member pricing on all motoring products and services online and across our stores, garages and Halfords Mobile Experts, as well as a variety of other benefits that will help you to keep moving for less.
With so much to enjoy, this is too good an opportunity to miss!
Join the Halfords Motoring Club today at www.halfords.com/motoring-club.
Join the Halfords Motoring Club