Falken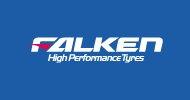 Falken is well known for providing high-quality mid-range tyres utilising the lastest in Japanese technology. Equip your vehicle with a set of Falkens to enjoy flawless performance and responsive handling. While you're browsing our selection of Falken tyres, don't forget we offer free local fitting with every purchase at a Halfords Autocentre near you.
Find Falken Tyre's suitable for your car
Enter your registration number and we'll only show you appropriate products.
Find tyres by Vehicle Registration Number
Sorry your vehicle has not been found, please enter a valid registration number.
Service is not available right now. Please try again later.