Bridgestone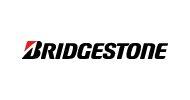 Bridgestone's globally-recognised, premium engineered tyres are built to keep you going no matter what vehicle you own or conditions that you face. At Halfords, we are proud to stock a wide and varied range of Bridgestone tyres at a reasonable price to prepare you for whatever the road has to throw at you. We'll even fit your tyres for free for minimise the hassle and maximise your convenience.
Find what's right for your vehicle
Enter your details and we will only show you appropriate tyres for your vehicle. We will also see if we can come to you with our mobile fitting service.
Founded in 1931, Bridgestone is one of the world's best-known tyre brands. In 1988, Bridgestone acquired Firestone Tire and Rubber Company, making it the largest tyre manufacturer globally. Today, Bridgestone produces a wide range of tyres for cars, motorcycles, lorries and agricultural vehicles. Bridgestone's commitment to safety and efficiency is reflected in its partnerships with major car manufacturers, and is the Original Equipment supplier and performance tyre of choice for the likes of Mercedes, Porsche and Volvo. Bridgestone tyres are subject to rigorous testing, to ensure that every product meets the company's exceptionally high safety standards.