How to check tyre Tread Depth
---

Few parts on a car are as important as our tyres. They're the only contact point between our cars and the road and are essential for safe braking and acceleration, control, and ride quality.
With this in mind, it's important to ensure that your tyre tread depths are at the legal requirement. Keep reading to find out how to check tyre tread depth.
What is tyre tread?
Your tyre's tread is designed to keep the tyre in contact with the road. So, as your tyre wears, its ability to grip the road decreases, meaning longer stopping distances and a higher risk of aquaplaning.
Driving with worn tyres is not only a serious safety risk, but a costly one too. In the UK, the fine for bald tyres is £2,500 plus three points on your licence per tyre, so it's essential to check them monthly for any signs of damage or wear.
How to check your tyre tread depth
You can check how close you are to the legal limit on all tyres by checking the tread wear indicators: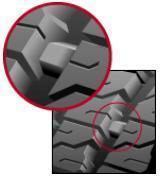 These indicators are small raised areas at the bottom of the grooves. Once the surface of the tread rubber is level with these raised areas, the tyre tread depth is approaching the legal limit of 1.6mm and you should have your tyres checked and replaced.
Minimum legal tread depth
So, what is the minimum tread depth required for car tyres?
While a new car tyre begins life with approximately 8mm of tread, the minimum legal tread depth is 1.6mm. However, most motoring organisations recommend changing your tyres before the tread gets to this level.
Independent research by the Motoring Industry Research Association (MIRA) has shown that tyres with 3mm of tread have an average 25% better performance than those at 1.6mm - which represents an extra 8 metres of stopping distance in wet conditions!
What causes tyre wear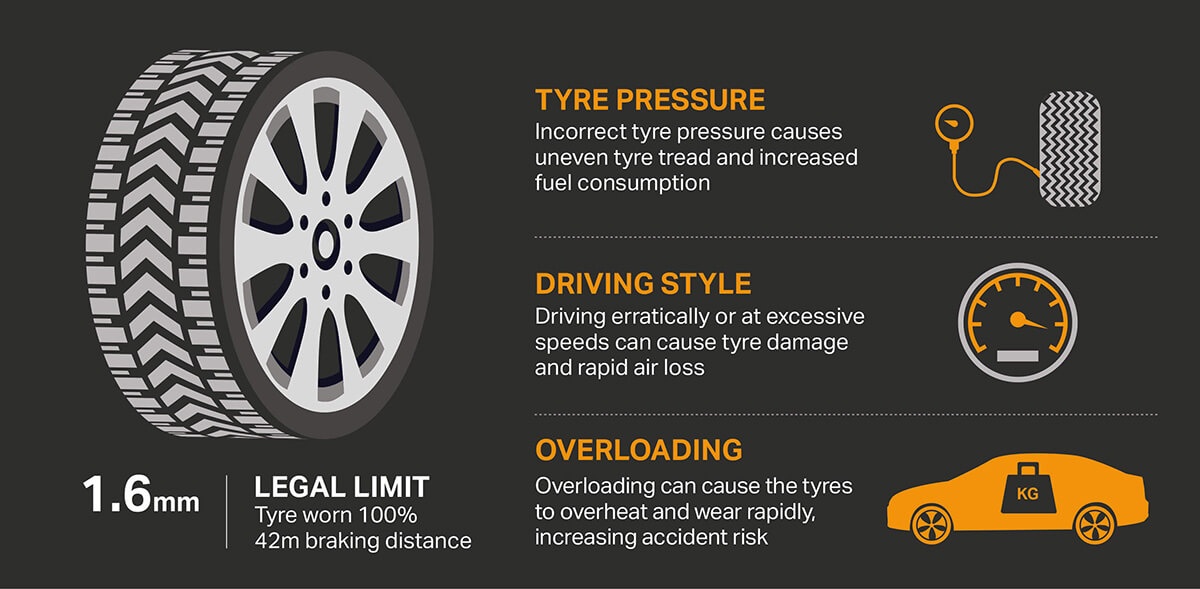 The typical lifespan of a quality tyre is between three and five years. However, there are many factors that can cause rapid tyre wear, such as:
Incorrect tyre pressure. Having over or under inflated tyres can cause uneven tyre tread.
Driving style. Accelerating and braking harshly will damage your tyres, and may result in rapid air loss.
Overloading. A heavier car can cause your tyres to overheat, increasing the risk of an accident.
Alignment. Your tyres will wear unevenly if your wheels are misaligned.
Find out more about the different types of abnormal tyre wear.
Tyre tread depth checker
If you're unsure whether your tyre tread depths are at a safe level, you can use a handy tyre tread depth gauge to help. These devices will give you an accurate measurement for that extra peace of mind.
Discover our range of tyre tread depth gauges
Halfords Free Tyre Check
Want help checking your tread depths are at a safe level?
Book a Free Tyre Check and one of our trained technicians will not only check your tyre tread depth but will also carry out a pressure check and inspect for wear and damage.
If any problems are found during the inspection, one of our technicians will advise you on what can be done to correct the issue.
It's the easiest way to check that your tyres are up to the task!
Replacing tyres
If the tread depth on your tyres is at or below 1.6mm, you will need to replace your tyres – although we'd advise that you change them before they get to this level.
Here at Halfords, we have a wide range of tyres to choose from, with a choice of the best brands. If you're unsure what tyres are best for your vehicle, our Car Tyres Buyers Guide will help.
We also offer same day fitting in many of our autocentres, and you can find out more here.
Or, why not make life easier and let us come to you? Our Halfords Mobile Experts can change your tyres at home or at work, and at a time that is convenient for you.
So, what are you waiting for? You can book your tyre fitting through our Mobile Experts here.
For further advice on car tyres, head over to our tyre help and advice page. You can find our full range of tyre and tyre services over at Halfords.com.
Same day tyre fitting
Did you know that we now offer same day tyre fitting service across our garages nationwide? Simply book online before 1pm and we can replace your tyres the same day to help you get you back on the road safely and swiftly. Please note that availability varies by location. For more information, please head on over to our dedicated same day tyre fitting page where you can find answers to frequently asked questions, choose the right tyres for your vehicle and book your appointment.
Book same day tyre fitting
Introducing the Halfords Motoring Club
Don't miss out! Join the Halfords Motoring Club today to access a range of amazing benefits and discounts that are designed to keep you moving, keep you safe and keep you saving.
It's free to join and you'll receive money off your MOT, a free car health check and a welcome voucher that can be spent on any Halfords product or service.
Or choose our Premium membership for a small monthly fee (or a one-off payment) to unlock exclusive member pricing on all motoring products and services online and across our stores, garages and Halfords Mobile Experts, as well as a variety of other benefits that will help you to keep moving for less.
With so much to enjoy, this is too good an opportunity to miss!
Join the Halfords Motoring Club today at www.halfords.com/motoring-club.
Join the Halfords Motoring Club