Ignition
Find what's right for your vehicle
Enter your registration number and we'll only show you appropriate products.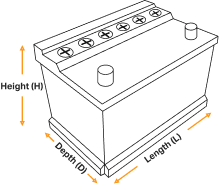 Check which battery is right for my car
What is ignition?
The car ignition kicks your engine into life . Turn the key and a signal is sent to start the engine, with the spark plugs in a petrol car, or glow plugs in a diesel car, providing the spark that ignites the fuel.
Ignition system faults
If you're having issues with the ignition on your car, you might notice your engine misfires or stalls with no combustion. At Halfords, we've got service parts, spares and replacements for the entire ignition system. In stock, we carry car ignition parts including spark plugs, glow plugs, rotor arms, ignition modules and coils, distributors and caps and condensers for all popular makes and models. We only stock high-quality OEM parts that are direct replacements. That means no hassle and no fettling when it comes to fitting.
Find ignition parts at Halfords
Whether you drive a diesel or petrol, we have the parts for you. It's easy to find the right spares with our car parts finder. Enter your registration and it will display the right parts for your vehicle. You can buy online and enjoy low-cost home delivery, or use our Click and Collect service to get items delivered for pick-up.
If you'd prefer some impartial advice, then drop in to your local Halfords store and chat with one of our experts. They'll be more than happy to help you find the right ignition parts and service spares.