Find what's right for your vehicle
Enter your registration number and we'll only show you appropriate products.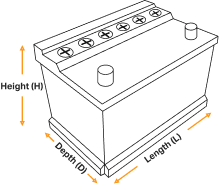 Check which battery is right for my car
What is an ignition coil?
An ignition coil is an essential car part which passes electricity to your spark plugs to start your engine.
Ignition coil replacement
Ignition coil symptoms to look out for include trouble starting your car, backfiring, stalling or lowered fuel efficiency, so replacing your ignition coil as soon as possible will help get your journeys back on track. If you leave your faulty ignition coil for too long, this could damage the catalytic converter, resulting in an even more expensive part to replace.
Ignition coils don't need to be changed together if your other coils are functioning properly. Faulty spark plugs can put extra strain on your ignition coils, so you may need to replace them together. However, if there are no signs that your spark plugs need replacing, you can just replace the faulty ignition coil.
Ignition coils from Halfords
If this crucial car part needs replacing, Halfords sell ignition coils for all makes and models of vehicles. Enter your registration number to see all products suitable for your car. Once you've found an ignition coil, choose between home delivery or fast click and collect from your local store.