Find what's right for your vehicle
Enter your registration number and we'll only show you appropriate products.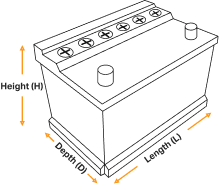 Check which battery is right for my car
Air Filter Information
What does an air filter do in a car?
An air filter works hard to prevent debris from entering the car's engine. The fuel-air mixture that your car relies on to propel you forward is cleaned by the air filter, which removes dirt and debris before the airflow reaches the engine. A constant flow of clean, fresh air also prevents your car from overheating. All of the above are damaging to your car's overall performance, but as well as this, air filters play a huge role in your car's efficiency and lifespan.
Where is the air filter in a car?
To find out where your air filter is located, check your vehicle's handbook. The air filter may be found under the bonnet or behind the glove box.
How often to change air filter in car
How often you change your air filter will vary between vehicle makes and models. Typically manufacturers recommend they are replaced in an annual service or every 15K to 30K miles. If your air filter is faulty or needs replacing, dirt and grime can also mix with the oil that is supplied to the engine, over time wearing away the components of the engine.
How to change a car air filter
You can change your car filter at home by following our guide with step-by-step instructions and a checklist of what you need to get the job done.
Buy a car air filter online
At Halfords, we stock a huge range of air filters and performance air filters online for all car makes and models, including performance air filters for diesel cars. More commonly required air filters can be found in-store. Finding the best air filter for your car is easy with our vehicle registration tool, simply enter your reg into the box and our system will pull relevant products suitable for your car.
Once you've found the correct products, use our delivery or click & collect service to get them sooner. If you're still unsure which products you need, head to your local Halfords store where one of our colleagues will be happy to help you out.