Cooling & Heating
Find what's right for your vehicle
Enter your registration number and we'll only show you appropriate products.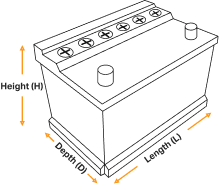 Check which battery is right for my car
Cooling
Air Conditioning
Heating
Help & Advice
About our cooling and heating parts
Your car's heating and cooling systems are important factors in having a comfortable ride all year round, but especially in extremely hot or cold conditions.
Car Cooling System
In the winter, engines need to be stopped from freezing up and causing irreparable damage. You may need a replacement car cooling fan, car radiator, expansion tank, or intercooler, and at Halfords we've got it all.
Car Air Conditioning
If you need to repair your car's air conditioning, we have all the parts you could want, including accumulators, actuators and compressors.
We stock a range of parts for both heating and cooling systems. Having your car's heating and cooling system fail isn't much fun; particularly if it occurs during the winter or summer months, but fortunately they aren't too difficult to replace.
Order Cooling and Heating Parts Online
Halfords supply a full range of car heater parts and car fan parts. You can browse and buy online today, or if you need advice on which is the correct cooling system, then you can call into your local Halfords store and one of our team will be happy to help you make the right choice. You can also use the Halfords free click and collect service.