MOT help and advice
Discover all you need to know about MOTs with our handy MOT help and advice hub.
Whether you want to know how to pass your MOT, what's included in an MOT or when your MOT is due, you'll find the answer right here.You can save yourself time and money when you book your MOT and Service together online with Halfords. We've got over 300 MOT test centres nationwide with specialist MOT testers who will ensure your vehicle is fully inspected and meets the safety requirements set out by the DVSA. Our friendly experts are happy to help!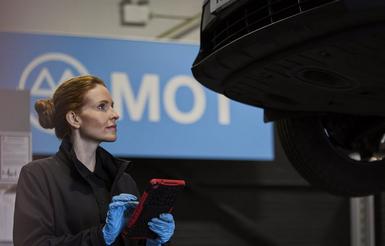 An MOT test will check that your vehicle meets all road safety and environmental standards. It proves that your car is roadworthy and safe to drive.  Every car over three years old must get an MOT each year to comply with UK law.
An annual service involves a comprehensive check of your vehicle's condition, and a refresh of essentials such as engine oil, fluid and coolants, and replacement filters, if required. You should get a service at least once a year, but if you cover lots of miles your car might need to be serviced more regularly. Servicing should be completed according to your vehicle manufacturer's schedule.
Booking a car service at the same time as your MOT provides total peace of mind and confidence that you're ready for the journey ahead.
Booking an MOT and a service together makes it much less likely that you'll forget either of them. They can be completed during the same visit, which means you'll only have to make one trip to the garage. Book an MOT and annual service together and you'll save money, too.

At Halfords we offer great savings when you combine an MOT and a service, so book yours today.
You can book a Class 4 MOT or Class 7 MOT via the Halfords website or by contacting your local Halfords autocentre. If your MOT isn't due yet, then send us your email address and we'll remind you when it's time to book.
If you leave your car overnight at one of our Autocentres, it's at your own risk. In most cases, we don't own the car parks and therefore have no control over security or any parking restrictions.
We only offer a car collection service to our fleet customers. Everyone else will need to drop their car in for an MOT or service. We ask you to bring your vehicle in 10 minutes before your slot to ensure we can get working immediately.
View all