Car Electrical & Lighting Parts
Find what's right for your vehicle
Enter your registration number and we'll only show you appropriate products.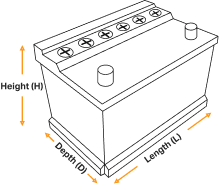 Check which battery is right for my car
About our car electrical parts
In modern-day cars, there are hundreds of electrical components that ensure a safe, comfortable and enjoyable ride. Switches, sensors, car alarms & car horns are the things that immediately spring to mind, and all play a huge role in making sure your car is safe to drive.
About our car lights
Ensure your car is safe on the roads by getting a brake light, indicator, or headlight replacement as soon as a problem arises. Car lights are essential for alerting pedestrians and other motorists of your position on the road.
At Halfords, we understand the importance of your car's electrical and lighting components, which is why we've grouped all the above and are pleased to offer a complete range of parts for all car makes and models. From car batteries, alarms, immobilisers & horns, to headlights, indicators, switches & sensors, there's something for everyone within our range.
Order electrical car parts and lights from Halfords
Identifying a problem with your car's electrical or lighting systems early on is essential, and failure to do so could result in a serious mechanical fault. To ensure your vehicle is safe to drive and to help prevent a problem from developing, our team of experts at your local Autocentres garage are on hand to assist you in finding the right products for your car. Need your car electrical repairs taken care of? Let us book you in for a professional car service or repair.
Alternatively, if you'd prefer to purchase your products online, simply enter your vehicle registration number into the tool provided and our system will pull relevant products to suit your car. Once you've found the products you need, use our convenient click & collect service to get hold of them sooner, or opt for delivery if you'd prefer to have your car electrics delivered to your home address.