Find what's right for your vehicle
Enter your registration number and we'll only show you appropriate products.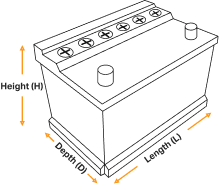 Check which battery is right for my car
What are Starter Motors?
The starter motor is a simple piece of equipment that plays a huge part in ensuring your engine turns over and starts up. Turning the ignition key energises the motor and causes a magnet inside the starter motor to engage. A rod in the motor then pushes a pinion gear into the flywheel, the starter motor runs and the combustion chamber sucks in a steady flow of air to mix with the fuel. To fire up the engine and complete the cycle, the spark plug ignites the air-fuel mix.
How long do starter motors last?
As with all car parts, engine starter motors are subject to general wear and tear over time. On average, the starter motor will last 100,000-150,000 miles. If the starter motor isn't turning fast enough or part of it is seized, it may need repairing or replacing. The most common fault with a starter motor is a faulty solenoid, which is located on the motor itself, and is responsible for transmitting electricity to the motor. But as well as this, if the pinion gear is in constant contact with the flywheel, this can cause the engine to spin the starter motor too fast, also causing it to damage. And while it is possible to fix many faulty parts inside the motor, it is often more economical to replace the entire unit if more than one problem is found.
Starter Motors For Sale
At Halfords, we stock a great range of starter motors for all car makes and models. Simply enter your vehicle registration number into the tool provided and our system will pull relevant products suitable for your car. Once you've found the starter motor replacement you're looking for, use our convenient click & collect service to get hold of your products sooner. Or, opt for delivery if you'd prefer to have them delivered to your home or work address. Still unsure which products you need? No worries, just head down to your local Halfords store where one of our colleagues will be happy to assist you.