Locking Wheel Nuts
Find what's right for your vehicle
Check which battery is right for my car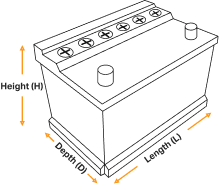 Locking wheel nuts are a thieves' worst nightmare. While the rest of your car wheel bolts are a standard size that can easily be removed with a wrench. Every locking wheel nut is slightly different and can only be opened with a specific key. Sure, a thief could probably still get your wheels if they wanted, but it would take a lot more effort - and a lot more time.
Locking wheel nuts were first used by car enthusiasts who wanted to protect their expensive alloys and rims. Now, they're pretty standard on most vehicles.
We stock loads of locking wheel nut kits, for every car and every budget. We've got reliable replacements for your wheels if you're not looking for anything special. We also stock a whole range of premium locking wheel nut kits. Hard-wearing, corrosion-free and Thatcham-approved, our high-quality wheel locking nut kits will keep your car and its wheels together forever.