Find what's right for your vehicle
Enter your registration number and we'll only show you appropriate products.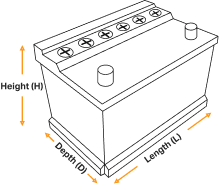 Check which battery is right for my car
Spark Plugs Information
What are spark plugs?
Spark plugs are directly linked to your car starting and are an essential engine component that should be well maintained. If your car is misfiring or having problems starting, the chances are that it could be a problem with your car spark plugs.
Where are spark plugs located?
Whether you're a seasoned mechanic or not, locating the spark plugs in a combustion engine is fairly straightforward. Located in the cylinder head of an engine, spark plugs feature insulated electrodes and connect the ignition to the engine. As the spark plug detects electricity, the gap between the plug and the cylinder causes the voltage to transfer between the two points. A spark is then created which starts the combustion process. Typically, spark plugs require 20,000 volts to ensure the engine fires properly.
Bad spark plug symptoms
Since spark plugs assist in starting the engine, it's likely that bad spark plugs will impact the engine through misfiring, surging or idling rough. Other signs to look out for include slow acceleration, high fuel consumption, or trouble starting the engine.
How long do spark plugs last?
Over time spark plugs can wear out, with the average copper spark plug lasting 10,000 to 20,000 miles. Iridium or platinum spark plugs will last longer.
What spark plugs do I need?
Spark plugs vary depending on the make, model and age of your vehicle. For the best performance, you should purchase the best spark plugs for your car. To help you locate yours, we've designed a vehicle registration lookup tool that will automatically pull relevant products to suit your vehicle based on the registration number.
Spark plug replacement
Once you've found the products you need, you can buy spark plugs using our convenient click & collect service to get hold of your products sooner. Or, if you'd prefer, try our trusted delivery service.We stock a variety of spark plug brands including Bosch, NGK, Denso and Beru. If you're unsure of the best spark plug for your vehicle, our friendly colleagues can help.
Need help changing spark plugs? Don't worry, just head down to your local Halfords Autocentre where one of our team will be happy to assist you. If you're looking for advice on how to change spark plugs, check out our step-by-step guide.