Find what's right for your vehicle
Enter your registration number and we'll only show you appropriate products.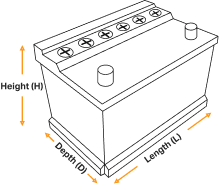 Check which battery is right for my car
Buy glow plugs online
Glow plugs are found in cars with diesel engines. The glow plug works as a heating device to help start the engine in cold weather. Since diesel burns at a low temperature, starting your car in cold conditions can be more difficult, which is why diesel cars need the help of a glow plug. They ignite fuel by heating the air in the combustion chamber which kickstarts your car's engine.
If your car engine is struggling to start, it could be time to replace the glow plug. Enter your vehicle registration number and we'll show you the correct glow plug for your car, alongside other products designed for your vehicle.
Buy online and have your car parts delivered for free if you spend over £20, or use our free Click and Collect service and we'll ship the parts to your local Halfords store.
How to spot a faulty glow plug
Testing a glow plug needs specialist mechanical equipment to assess electrical voltage and resistance, so you might not always notice if it's not functioning. If you don't have a multimeter to hand, pop down to your local Halfords garage and we'll be happy to check the glow plug for you.
There are also some warning signs to look out for that might indicate a faulty glow plug. You might notice the following:
The engine won't start
The engine takes longer to ignite, especially in cold weather
The engine isn't operating correctly
There's raw, uncombusted fuel in the exhaust soon after you start the engine
Spark plugs
Spark plugs are part of the engine in petrol-powered cars. They ignite the fuel to kickstart the car's engine. Like glow plugs, if your engine isn't starting correctly or the car is misfiring, it could mean you need a spark plug replacement.
Ignition coils
Ignition coils pass electricity to spark plugs to start the ignition. If you notice your car is backfiring or stalling frequently, or you're using up more fuel, it could be caused by a faulty ignition coil.
---
Glow Plugs FAQs
Glow plugs aren't too expensive, but it depends on the make and model of your car. Costs can also vary between glow plug brands. Halfords stocks a huge range of glow plugs online. Just use our car part finder tool to find the right glow plug for your car.
Glow plugs are only found in diesel cars, whereas spark plugs are for petrol vehicles. Diesel burns at a much lower temperature than petrol, so it needs a different plug to heat the fuel correctly and kickstart the car. Petrol cars only need a spark to ignite the air and fuel mix in the engine.
Removing glow plugs isn't too difficult, but it depends on your vehicle make and model. Follow these steps to get started:
Turn off the ignition switch
Access the glow plugs
Disconnect the glow plug wires
Remove the plugs using a socket and rachet
Assess the condition of each plug and if necessary, fit new ones
Reattach the cables so the glow plug works correctly
If you're unsure or want expert help, head to your local Halfords garage and one of our technicians will be happy to assist you.
Testing a glow plug requires a mulitmeter to assess electrical resistance and voltage. If you don't own a multimeter or aren't sure what to do, visit your local Halfords garage and we'll check the performance of the glow plug for you. We can also advise on which part you need if the glow plug needs replacing.
Although glow plugs have a long lifespan, they will suffer wear and tear over time. On average, glow plugs need replacing every 100,000 miles, but it also depends on your vehicle usage.