Electric vehicle
home charging
Our electric experts make home charging simple. We're here for everything from installation to energy supply, all in one place.
Need electric vehicle
charging at home?
Follow these simple steps for a complete EV home charging solution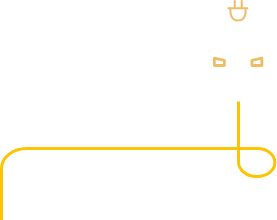 Choose the right EV charger for you

We've partnered with BOXT to offer you a wide range of EV chargers online, or you can visit your local Halfords and speak to one of our experts.

Get the right EV accessories

Here at Halfords we have a range of EV charging cables available for you.​

Book a date

Select and book your installation at a time that's convenient for you, in as little as 3 days.*

After the installation

Simply plug-in your EV and charge.

Select your energy tariff

Save money on energy bills by switching to a specialised electric vehicle home energy tariff from our partner EDF Energy.
Benefits of EV charging
at home

Up to 3x faster than charging off a normal three pin plug at home or at work
Cheaper than charging using a public charging station as no connection fees or expensive energy bills
No waiting for a charger to be free
Eco-friendly, as you can control the energy source

A winning partnership with BOXT
Halfords has teamed up with BOXT, an EV charger installation company that's rated 5/5 on Trustpilot, to provide the complete EV charging solution.

Everything you need, all in one place
Our range caters for every electric vehicle and our offer includes the product, installation, accessories and an energy tariff recommendation.

One fixed price for the charger and installation
There are no hidden costs and you won't waste any time filling out forms. There's just one upfront, fixed price for complete transparency.

Choose a charger and get it installed in as little as 3 days*
You can order your new electric vehicle charger and use BOXT's interactive calendar to book an installation in 3 days' time. You'll be in complete control!

Aftercare
Our service doesn't end once the product's been installed. You'll benefit from three years of aftercare for the EV charger.
Our installation & energy partners

We are BOXT, a multi award-winning tech platform founded in 2017 to redefine the world of home installation, making it simple and stress-free. We're incredibly proud to have received over 10,000 five-star customer reviews on Trustpilot and have 80,000+ happy customers
Learn more
Powered by
BOXT's partner EDF Energy has a tariff tailor-made for EV charging at home. If you need it, BOXT will help you switch over once your brand new EV charger is up and running. EDF's Go Electric EV energy is 100% zero carbon renewable electricity from wind and solar power.
Learn more
We're Stashbee - the space place. Whether it be for parking or storage, our vision is to put the world's unused space to good use. Join our thriving Host community and earn extra income from your EV charger by renting your parking space, driveway or garage to people who need it.
Learn more


EV Charger Installation
Excellent job done. The installation was all planned ahead of time so when the installer arrived it was a straight forward job. He was careful to explain the installation and train me on operation also a few tips on how to take full advantage of the charger. I am particularly pleased with the effort made to keep the work tidy, a cable was required to run from one side of the house to the other, the work was done with care and precision. It looks like it's always been there.

EV charger fitted by Josh
Josh came out to fit my EV charger. He was brilliant and so conscientious. Suggested a better location than I had chosen and I am so pleased with the end result. This is my second time with Boxt. I had a boiler fitted one year ago and that was also a perfect job. Any issues or questions posed to Boxt are answered promptly. You cannot fault Boxt and you certainly cannot fault Josh. Would I use again in the future? You bet!

BOXT - car charger installation
BOXT fitted a car charger in my house. Whilst it got off to a shaky start, BOXT worked really hard to get things done right, which is exactly what happened. Big shout out to Ed, Antony the electrician who came out and surveyed, and Josh who done the installation. Brilliant work, even though it was a tricky job, and left the place neat and tidy. Top work BOXT

Had a Rolec EV Charger installed for my…
Had a Rolec EV Charger installed for my new Tesla. Gave a fixed price so no surprises. The Electrician, Josh, was very professional, did a great job, answered all our questions, nothing was too much trouble. Couldn't have asked better or cleaner install, looks great.

Excellent EV Charger installation
Very impressed. Having previously engaged with another supplier who let me down twice for appointments, I decided to book with Boxt. I am very pleased that I did, as the service was faultless. Ben arrived on time, performed an excellent job with the installation and without any issues. Highly recommend and will definitely use when my boiler needs replacing.

EV charger supplyed and fitting
Had a EV charger fitted by Scott for BOXT, it could not of been easier, from the order to fitting. Ordered with a delivery date, and all relivent information sent to BOXT, who confirmed order within 24hrs. Engineer turned up on time and was very polite and efficiant. Job all completed within a couple of hours. The engineer stayed at the address until the wall box had its software updated and the app was up and running, which was also explained by the engineer. I am happy to highly recommend this company, for the work I had done. Will be using again.

Had our tethered EV charger installed
Had our tethered EV charger installed. Very tidy job, no fuss and a good experience.

Great customer service
Great customer service, a capable engineer who installed the EV charger with ease and showed me how to use it, and a super simple EV Charger which is dummy proof to use. The follow up call from HQ Customer Experience was an unexpected but pleasant surprise. I would recommend BOXT to anyone.

Excellent service
Excellent service. I had a EV charger fitted with minimal lead time as my EV was being delivered soon.

EV charger installation
I recently had an EV charger fitted by BOXT. The process was very smooth - very impressed with the service. The engineer who fitted the charger was awesome. Text me day before to confirm arrival time. Brill! Turned up bang on time. Was very professional and has done an amazing job ( very neat)…demonstrated the unit… left me confident that it will work when my electric car finally turns up. Very happy. Thanks

EV charging point installed
Had my EV charging point installed through Boxt. The website was really easy to navigate and understand when booking in and looking at the finance options. The charger itself is neat looking and not bulky or ugly which I am happy with. The booked installer changed for me, but it made no impact and the guy who did the installation was lovely, on time, neat and tidy. He showed me everything before he left and made sure I was happy with how it worked and how to use it including some tips on using the app. Customer care was excellent when I contacted regarding updating costs based on the government grant and everything was dealt with for me. I would recommend using Boxt and we have also used them for our Boiler where we had a similar experience.

Car Charging Point
BOXT fitted a car charging point for us. Wasn't straight forward as electricity Northwest needed to upgrade the main fuse, but our BOXT engineer arranged it all and kept us updated. Fitting of the charger was done quickly and the place left clean and tidy. great job, would definitely use again.

EV Charger installation
Used for the installation of an EV charger.
Very competitive price and everything pre-installation and on the day of installation itself handled superbly with minimum of fuss.
Engineer Matthew was qualified, knowledgable and very professional.
Couldn't ask for much better I don't think.
Read our handy guides below to find out all you need to know about home EV charging
You can book your installation date in as little as 3 days time and will need to send a few photos for the technical team to review to ensure everything will fit on the day.
All our EV home chargers come with a 1-year workmanship warranty from BOXT and a 3-year warranty on the product.
No, all our products come with either built in O-PEN protection or an earthing unit is included at one fixed cost, for safe and hassle-free installation.
EV smart charging gives the user the ability to control their charging unit through their phone. Features can include scheduling, setting a time for when you want your vehicle to be ready or boosting your charge. All your charging statistics are also included.
From 30th June 2022, all EV home chargers sold in England, Scotland, and Wales must have smart functionality, in accordance with The Electric Vehicle (Smart Charge Points) Regulations 2021.
Based on an electricity rate of 14p per kWh, it would cost around £8 to fully charge a 60kWh electric car, which could equate to around 200 miles of range. (This is roughly the equivalent of achieving 150mpg in a combustion engine car at a fuel cost of £1.35 per litre)
As most of our EV chargers are smart enabled, you'll need to ensure you can connect the unit to your Wi-Fi network. You can test this prior to your charger being installed and once confirmed and installed, you can complete the setup process through your mobile.
* BOXT aims to offer customers professional installation within 3 working days of receiving approval to carry out the works from the customer's Distribution Network Operator. This does depend on installer availability and will vary by region.